In the uncertain times of today, dominated by the Coronavirus pandemic, few are the football clubs willing to spend as freely as other transfer windows have allowed.
Curiously, irrespective of the risks and needs to safeguard against turns in the financial tide, one team appears to be spending like never before.
Hiring a top-20-earning manager, being linked with the likes of Tottenham Hotspur's Jan Vertonghen and ex-Paris Saint-Germain star Edinson Cavani before spending a whopping €80 million in transfer fees on top of that, it'll come as a surprise to many that Benfica, from cash-strapped Portugal, are the ones flaunting such fierce financial firepower.
Free-spending isn't entirely foreign for the Estádio da Luz outfit, who've completed four of their five most expensive deals ever just in the last 12 months, but the manner is as aggressive as ever after a lacklustre 2019/20 season.
Fresh in the memory is Bruno Lage's demise in charge of the Eagles, last season, winning just five of his last 15 games at the club before resigning to the tune of bitter rivals FC Porto charging to the league title.
Lage didn't pick up all of the blame, however, having previously sealed the title in 2018/19 after two-time champion Rui Vitória, now at Al-Nassr, succumbed to the same fate mid-season.
The board's harshest critics were quick to point towards the club's inability to cast in the correct personnel, struggling firstly to cater for the aging Jonas and, later, replacing João Félix effectively.
A season prior to Vitória's sacking, Benfica also missed the chance to win five league titles in a row, a record held by Porto, who were, against the odds, able to wrap up the 2017/18 league title for themselves on a shoestring budget.
Head-to-head in the last three season, the Dragons are 2-1 up in titles, which weighs heavy on Luís Filipe Vieira's reputation as club president, with elections looming over the club next month.
The club's European success, or lack thereof, has been an even bigger source of disappointment, falling at the group stages in each of their last three Champions League campaigns which included 2017/18's rock-bottom finish, accumulating no points at all in Manchester United's group.
In addition to having his name muddied by numerous allegations into corruption, after 17 years in charge of the club, Vieira is, without a doubt, going through his least boastful spell in the red half of Lisbon. This brings us to his new, more aggressive approach ahead of the new season, as well as October's pending election, in which Vieira really has gone for the jugular.
The first port of call has been Jorge Jesus – a name very familiar to the club for the best and worst reasons. A three-time league champion in six years, the Eagles played some of their best football under the 66-year-old, but his tenure at the club ended on a real sour note, trading the red of Benfica for the green of cross-city rivals Sporting in the summer of 2015.
Then came the signings of Everton Cebolinha from Grêmio, adding to the capture of Corinthians' Pedrinho, Vertonghen's free transfer, a successful move for Germany Under-21 international Gian-Luca Waldschmidt and record-transfer Darwin Nuñez, arriving from Spanish second tier side Almeria.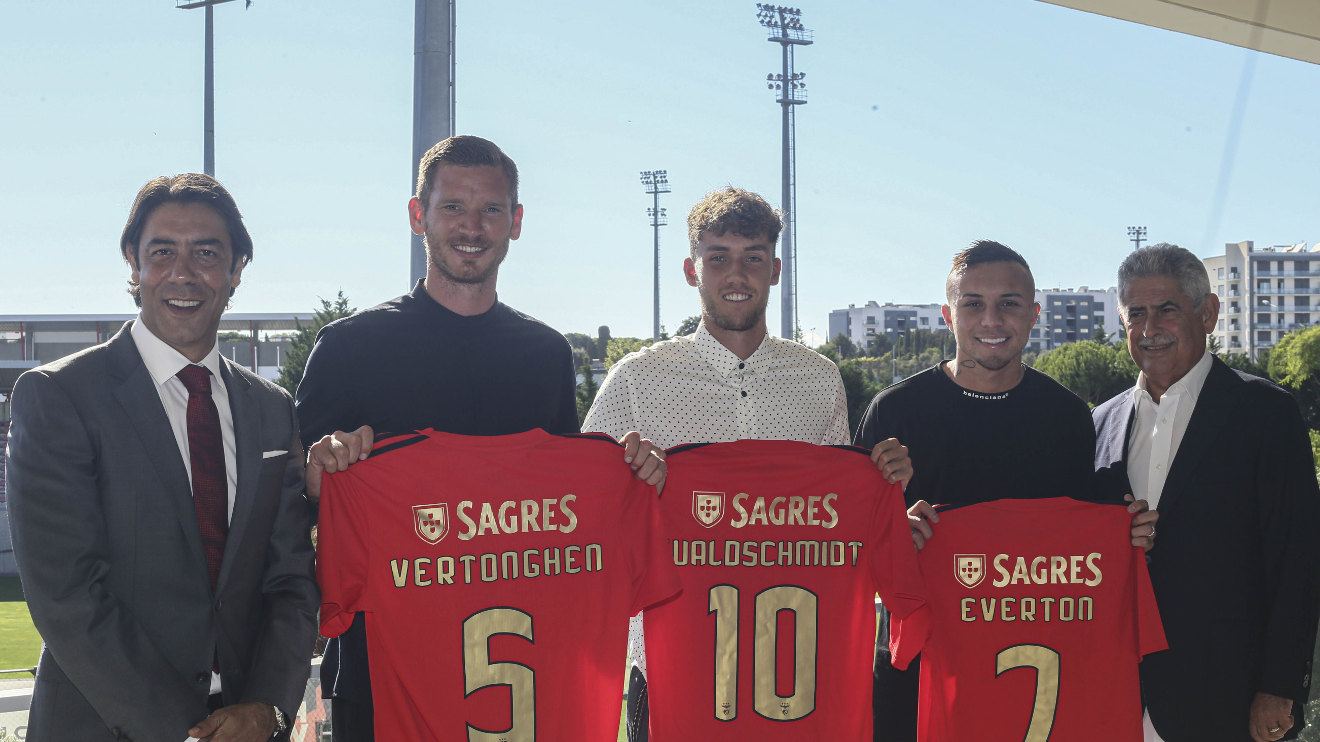 With a bill north of €80 million and moves for Flamengo pair Gerson and Bruno Henrique, as well as Olympiakos centre-half Rubén Semedo still tabbed up, the message coming from Benfica was clear. This wasn't a club simply after domestic success, but one seeking redemption on a European stage, befitting of the money invested in both players and manager.
But as the Red & Whites stretched their finances to the limit, they seemed to have overlooked one very pertinent fact about Champions League football – they were yet to qualify.
In Tuesday's one-legged play-off, PAOK Salonika handed Benfica the most brutal reminder of that, knocking them out in a 2-1 victory sealed by their ex-player, Andrija Zivkovic, who was allowed to head for Greece on a free transfer just this month.
With it, the Serbian winger, a handsome earner during his time in Lisbon, wiped €40 million from Benfica's coffers, upon eventual qualification for the centrepiece of European club football – a staggering 35% of the club's annual revenue. By contrast, should the Eagles qualify for the Europa League and win the tournament, they'd only earn up to €26 million.
The elimination arrives with immediate consequences as the club battles to avoid the trail left by Sporting and Porto and landing themselves in hot water with UEFA's Financial Fair Play regulations.
Benfica may well need to sell a player or two for sizeable fees which, with super-agent Jorge Mendes in the contacts book, may not seem like such an impossible task, but it doesn't bode well for a squad Jesus, reportedly, still believes to be incomplete, nor will it sit well with the fans hopeful of seeing some of the club's brightest prospects out on the pitch, rather than on the transfer market.
The Eagles have been here before with Jesus, as well as Mendes, letting go of the likes of Bernardo Silva, Ivan Cavaleiro, Helder Costa and João Cancelo, all curiously for €15 million to AS Monaco and Valencia, both well-connected to the portuguese agent. Today, Florentino Luis and Ferro may well be the next to walk the plank.
Financial troubles will do Vieira no wonders too going into an election. Not only is the prospect of no European football a blow to fans, eager to see their star-studded team in action at the very top, but the recklessness of it, laid bare by Tuesday's elimination, is sure to erase some form of trust in the top man from sections of the support.
That may not be enough to dethrone the current incumbent just yet, still a favourite going into the elections, but the worries over an ambitious project, that seems to be over before its even begun, shall persist.