*DISCLAIMER*
Just for a little bit of realism in this fantasy match, any players that played under both managers aren't eligible to be in both teams.
---
Two of the best and most successful coaches ever went head to head in the Premier League between 2009 and 2011 as Carlo Ancelotti managed Chelsea to a Premier League title, while Sir Alex Ferguson followed that up with a title win of his own as Ancelotti was sacked.
While Ferguson ultimately ended up on top in this mini battle, Ancelotti's success prior to his time at Chelsea and afterwards ensured that the world remembered just how good he was. With three Champions League trophies to his name as well as league titles in Italy, England, France and Germany he's one of the best to do it.
Both managers have managed some of the greatest players to ever play the game, but what would happen if you put their best XI's ever against each other? Who would come out on top? Lets take a look.
---
In goal, you have two of the best ever. Carlo Ancelotti was able to manage the likes of Dida, Iker Casillas and Thibaut Courtois during his career but it's the legendary Gianluigi Buffon who gets the nod without a doubt. Ancelotti and Buffon worked together at Parma and while they didn't have any success together, his quality between the sticks makes him a sure-fire pick.
For Sir Alex, the decision was a little bit tougher. He worked with a host of top talent between the sticks also and was as successful with each of them, but it's tough to go with anyone but Peter Schmeichel. The great Dane was the undisputed number one for eight seasons under Ferguson winning 15 trophies during their time together and that makes him the pick.
In defence, much of Ferguson's team would have played together at some point or another. Gary Neville was the only choice for right-back that made any sense while Patrice Evra's dynamism in attack meant that he pipped Denis Irwin for the left-back role. Rio Ferdinand played with both and for my money is the best centre-back England has ever produced but his partner was the hardest choice to make. His long-time partner Nemanja Vidic was one option, recreating the 07/08 Champions League winning back line. Instead though, I've opted for the big Dutch machine in Jaap Stam.
Stam won three titles in three seasons plus a Champions League and FA Cup trophy during his time at Old Trafford and was arguably the best defender in the world under Ferguson and his ability to compete on any level with all attackers makes him the perfect foil for Ferdinand and a perfect pick.
For Ancelotti, the decision was tougher. The only absolute lock was at left back, as Paolo Maldini makes it into any team he's eligible for such was his quality. At right-back there were a few choices, but Cafu's brilliance in both directions got him the nod over the likes of Dani Carvajal and Lillian Thuram. In central defence the likes of John Terry, Pepe, Raphael Varane, Alessandro Nesta and Jerome Boateng were all options but in the end I opted for the two I believe that performed best under him.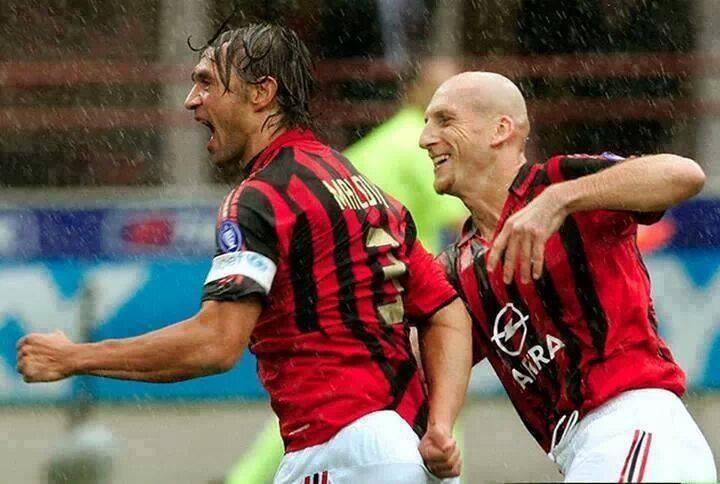 Brazilian Thiago Silva trained under Ancelotti at AC Milan for a few months before the Italian left the club, but they were re-united at Paris Saint-Germain. Silva was colossal at the back for Ancelotti as they won a Ligue 1 title while growing to try and become a force in Europe. The other pick, is the man who led his Real Madrid side to Champions League success despite not being the permanent owner of the captain's armband yet.
He became a true leader under Ancelotti, scoring the legendary 93rd minute equaliser in the Champions League final against Atletico Madrid. His pace, aerial prowess, leadership and ability on the ball as well as his defensive positioning make him one of the all-time greats and gets him in this team.
Sir Alex Ferguson's central midfield pairing was arguably the easiest. He dominated all of English football for years with a duo of Paul Scholes and Roy Keane and despite having the likes of Michael Carrick, Paul Ince and Bryan Robson to call upon too, nobody tops these two for him. Out wide, the options were a little bit tougher but still pretty easy. Throughout the years Ferguson managed some world class wide players, but the obvious selection is Ballon d'Or winner Cristiano Ronaldo.
Joining as a teenager, Ronaldo progressed to become the best player in the world under the tutelage of the legendary Scottish manager. The question in reality is which wing to play him on, since the next decision was between Ryan Giggs and David Beckham.
Both played a huge part in the club's success throughout the 90's and early 2000's before Beckham left for Real Madrid in 2003 and that exit is the reason why I've opted for Giggs. The Welsh winger broke onto the scene way back in 1990 and played every season of his career except for the final year under him so it's almost impossible to leave him out of the side. His inclusion on the left wing means Ronaldo goes in on the right, where he started his career at Old Trafford.
Ancelotti's options were much, much harder to decide on. Some huge names like Andrea Pirlo, Angel Di Maria, Gennaro Gattuso, Frank Lampard, Marco Verratti, Thiago Alcantara, Luka Modric, Arturo Vidal and Michael Ballack have all been left out such is the quality of player that he has worked with in the past.
After thinking long and hard, the defensive midfield position goes to Xabi Alonso. His incredible passing range mixed with his defensive quality and intelligence make him the perfect shield in an all-out attack minded midfield. Ahead of him, Clarence Seedorf. The Dutchman is one of the most complete central midfielders Europe has seen in the last 40 years and his best years arguably came under Ancelotti at Milan. He offers a balance of attack and defence and can help to ease the load on Alonso, while also helping to create going forward too.
It's unlikely Ancelotti's side would need much help creating though, with Zinedine Zidane and Kaka lining up behind the front two. Kaka won the Ballon d'Or under Ancelotti in Milan with phenomenal dribbling, an eye for goal and fantastic acceleration one of many reasons he was so key to the Serie A side's successes during that period. Zidane played under Ancelotti at Juventus and they won the Intertoto Cup together in 1999 and his elegance and skill is well known enough for me to not have to justify his inclusion here.
Up front the decision for Sir Alex's side was unbelievably difficult to make. Despite an array of goalscoring talent over the years I narrowed it down to four – Ruud van Nistelrooy, Andy Cole, Eric Cantona and Wayne Rooney.
Now granted, all four warrant an inclusion in the team on their own individual merit and I'm happy to admit my age probably played a part in my selections. Unfortunately I never saw enough of Cantona to justify putting him in ahead of the all-time top goalscorer for the club and arguably the best all-round player to play for the club.
Then it came down to the two best pure goal scorers I've seen at the club and I had to go with the man himself, Ruud van Nisterooy. The Dutchman scored 150 goals at Old Trafford in just five seasons with the side and had it not been for a fallout with gaffer, he'd likely have broken all the goalscoring records at the club.
For Ancelotti, the striker positions were a bit easier. While he dealt with some of the best attacking talents during his managerial career, two stood out more than any other.
At AC Milan, his go-to forward throughout was Ukrainian Andriy Shevchenko. He scored 90 goals in five seasons under Ancelotti and was one of the most feared strikers in the world, winning the Ballon d'Or in 2004. Then there was Zlatan Ibrahimovic, who spent a season under Ancelotti in Paris. He scored 35 goals in 46 games for the French champions as they won Ligue 1 together before Ancelotti moved to Madrid. His all-round ability as well as his link-up play and goalscoring attributes make him a handful for any defender and alongside Shevchenko could form one of the great partnerships ever.
So who wins the game? It's almost impossible to say. My bias as a Manchester United fan without a doubt leads me to think that Sir Alex Ferguson's side can take a victory but the more you look at the Ancelotti team you struggle to see any weaknesses.
I'll go with my gut and say Ronaldo's inclusion in Ferguson's team gives them the edge and the fact that the vast majority of them have played together before makes me feel they'd take a slight win.