Look back at all the greatest teams in history and they all have one thing in common, a dominant force in midfield to glue everything together.
The same can be said for both Arsenal's 'Invincibles' from the 2003/04 season in the Premier League and the 2002 World Cup winners Brazil. Both teams shared the same man in that key position and have unrivalled success – Gilberto Silva.
A beast of a central midfielder, he had all the attributes you crave as a defensive stalwart in your team but also had the athleticism to chip in going forward when needed.
Interestingly enough, Silva's rise to prominence came at the 2002 World Cup. He was still playing in his home country for Atletico Mineiro when he was called up to the national team as cover for the captain and star defensive midfielder Emerson.
Rather than change system or set up, Luiz Felipe Scolari trusted the 26-year-old to plug that gap. Gilberto played every minute of every game as Brazil won the tournament for a record fifth time, with his performances described as "carrying the piano on his back that Ronaldo and Rivaldo played their tunes on".
The performances were enough to see him labelled as one of the best defensive midfielders in the world, and that convinced Arsene Wenger to spend £4.5million on bringing him to Europe.
He immediately settled into the team ahead of his international compatriot Edu, forming a formidable partnership alongside Patrick Vieira. Between them, they could physically dominate opposition while also covering ground to help in both directions and being technically tidy enough to keep possession and carve through teams.
Gilberto's job in the side was simple, beef up the protection in front of the back four and get the ball forward to the more talented attacking players as quickly as possible.
His first season ended with a FA Cup win and runners-up in the league, five points behind Manchester United. But the following season was a historic one in English football.
In 2003/04 Arsenal went the entire season unbeaten, becoming the first English side to do so. Gilberto was key in that run, playing in 32 of 38 league games as well as all eight Champions League games they played that season. Unfortunately for Arsenal, they didn't win any cup competitions so had to settle for that league title – which would end up being the only title Gilberto won in his career.
The following year he struggled with injury after fracturing his back and only featured 17 times in all competitions before returning the following season. His important to the side was shown, since despite the exit of Vieira to Juventus that summer, Gilberto's partnership with Cesc Fabregas led the Gunners to a Champions League final against Barcelona.
Although they lost, they played very well and it was two late goals against ten men that won it for Barcelona and meant that Gilberto went trophyless once again.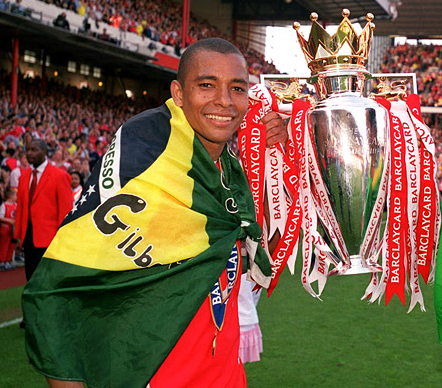 Aside from those classic performances for the Gunners, he will also forever go down in history for the club. After they moved from Highbury to the Emirates Stadium, it was the Brazilian who scored the club's first ever goal at the new stadium in a 1-1 draw against Aston Villa.
Following on from there he lost his place in the Arsenal team as a regular, but for Brazil he was still key. He wore the captain's armband in the absence of Lucio during the 2007 Copa America as Brazil won the tournament, beating Argentina 3-0 in the final. While Gilberto was suspended for the final itself, he played every game up to that point and was key under his idol Dunga.
After a spell with Greek side Panathinaikos he returned to Brazil to finish his career in his homeland where he spoke of winning the Copa Libertadores with his former side Atletico Mineiro. In 2013 he achieved that dream before retiring.
'The Invisible Wall' was the glue for all the successful teams he played in. Dominant aerially, a tough tackler, a great reader of the game and a leader. Arsenal wouldn't have gone unbeaten without him and Brazil wouldn't have won the World Cup without him. Without a doubt one of the best and most underrated defensive midfielders of his generation. Remember greatness, remember Gilberto Silva.