Arsenal have put the wheels in motion on a rebuild ahead of next season, with David Luiz and Willian both set to leave the club this summer.
The Gunners have had their worst season in recent memory, finishing outside of the European football places for the first time in 25 years while also failing to win any trophies under Mikel Arteta.
Despite that, the manager is somehow set to retain his job and be allowed to oversee a squad overhaul starting with the departure of two big-name Brazilians.
It was reported by The Athletic last week that after talks between both parties that both Luiz and Arsenal agreed that he should leave the club at the end of his contract this summer. The club were not planning on offering him a new deal and even if they did, he had no intentions of accepting and he will now leave the club.
Willian on the other hand was signed last summer by Arteta on a three-year deal when he didn't extend his contract with Chelsea. He wasn't wanted by fans at the time and his performances have shown why, with the winger only scoring his first goal for the club in the recent win over already-relegated West Bromwich Albion and registering just five assists in the Premier League – with three of those coming on the opening day.
It seems the emergence of Emile Smith Rowe and the added importance of Bukayo Saka to the team have made Arteta see the error of his ways, with Fabrizio Romano revealing that he will be allowed to leave the club this summer with the MLS a realistic destination.
As well as the two Brazilians, it's expected that several other first-team players will leave the club too.
Goalkeeper Bernd Leno is expected to leave after informing the club that he wants to play European football to help his chances of taking over from Manuel Neuer as the national team number one, just one year after the club chose him over Emiliano Martinez as the long-term goalkeeper.
Hector Bellerin and Sead Kolasinac are also likely to be allowed to leave, with Paris Saint-Germain reportedly holding an interest in the Spaniard while Kolasinac is likely to stay in the Bundesliga after his loan to Schalke in January.
In midfield Mohamed Elneny, Ainsley Maitland-Niles, Matteo Guendouzi, Lucas Torreira and Dani Ceballos will all likely leave the club with all failing to impress during their time at the Emirates Stadium, although Arteta's budget to replace them is currently unknown.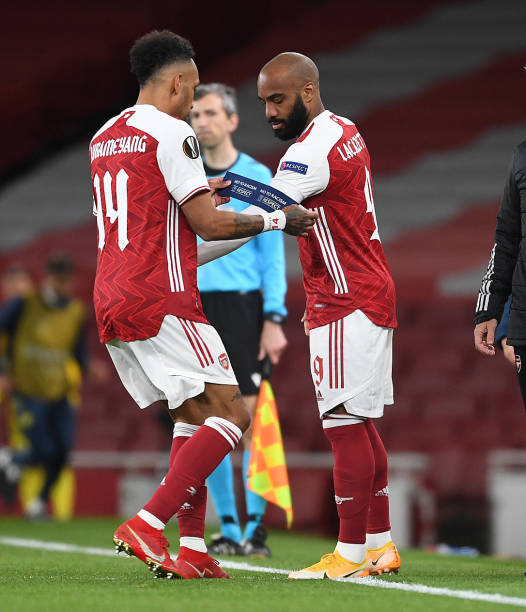 In attack Eddie Nketiah is likely to be moved on too, while the future of captain Pierre-Emerick Aubameyang is in question despite him signing a new £350,000 per-week three-year deal earlier this season.
Aubameyang has found himself displaced from the starting lineup by French teammate Alexandre Lacazette, who has scored 17 goals in all competitions this season. Lacazette has attracted interest himself but his style of play seems to suit Arteta a bit more, with his ability to play with his back to goal necessary for what the young coach is trying to implement.
Add to that the fact he is a couple of years younger, he'd likely be the preferred option to stay although that Gabon forwards contract could mean he is forced to stay and Arsenal cash in on Lacazette instead.
William Saliba is likely to return to the club following his loan spell away, with the suggestion that there will be a "clean slate" between himself and Arteta for him to try and break into the first-team again, while Rob Holding, Calum Chambers and Kieran Tierney will all be deemed as starters going forward.
The future of loanee Martin Odegaard is also in question, with the club keen to make his loan permanent but his interest in that not clear.
The Norwegian playmaker joined on loan from Real Madrid in January and has impressed, but with Madrid likely to want to refresh their ageing squad in the summer he will have a big chance of breaking into the team more regularly.
That would mean Arsenal stand next to no chance of keeping him, although it's not a position they need to prioritise in reality.
It looks set to be an incredibly busy summer for Arsenal and with Arteta likely to stay in charge, there will be no excuses next year. It will be his squad, his second full season in charge and be decisions made by him. It's quite literally now or never for Arsenal under Arteta.