During my lifetime, when you talk about the greatest goalkeepers to play the game it's often the same handful of names that crop up in conversation.
Iker Casillas, Gianluigi Buffon, Manuel Neuer, Peter Schmeichel and Petr Cech in particular are the guys that tend to be brought up the most, but there are always a couple of names missing. In my eyes, none are more overlooked than the big German shot stopper Oliver Kahn.
A Bayern Munich legend, Kahn ensured his name was written in stone when he won every trophy possible with the Bavarian club but was also successful with his national team.
After starting his career with Karlsruher, Kahn earned himself a move to Bayern in 1994 for a then-record of around €2.5m. He was immediately installed as the starting goalkeeper after some great performances for his previous side, including helping the side to get through to a UEFA Cup semi-final after battering a Valencia side 7-0 during the tournament.
He suffered a cruciate ligament injury in his knee which saw him miss six months of action in the campaign but still managed to make 30 appearances for the club and earned himself a call up to the German national team for his debut.
His first trophy came at the end of his second season, as despite finishing second in the Bundesliga they were able to beat Bordeaux in the UEFA Cup final 5-1 on aggregate with Kahn keeping a clean sheet in the first leg.
His third campaign was mightily successful, as he won his first Bundesliga title with a string of top performances earning him 14 clean sheets and the goalkeeper of the year award. In between the two campaigns Kahn was called up the German national team as part of the squad that won Euro 96, although he made no appearances his mentality was praised by first choice goalkeeper Andreas Köpke for keeping him on his toes throughout.
Fantastic performances and standards continued with Bayern Munich as they won the title again in 98/99, while also reaching the UEFA Champions League final. During that European campaign, Kahn played in all 13 fixtures and conceded ten goals before the final which was famously lost because of two injury time Manchester United goals.
Kahn was famously distraught after the game, laying on the ground in tears surrounded by his defenders, but it was his famed mental strength that helped him to get back up again and continue to succeed in his career. Later that year he was named as the World's Best Goalkeeper by the IFFHS.
He even managed to redeem himself just two seasons later when Bayern made it to another final, this time against Valencia. In a game decided by penalties during the game and after it, a 1-1 draw led to a shootout where Khan stood victorious by saving three Valencia penalties to win the game for his side.
Remembering his defeat in 99, the iconic image of Khan consoling a distraught Santiago Canizares while his teammates celebrated on the pitch to this day shows the magnitude of the man that the German was.
'Der Titan' perfectly summed up his style and persona too, as he won eight Bundesliga titles throughout his career and six DFB-Pokal cups to go with his Champions League title.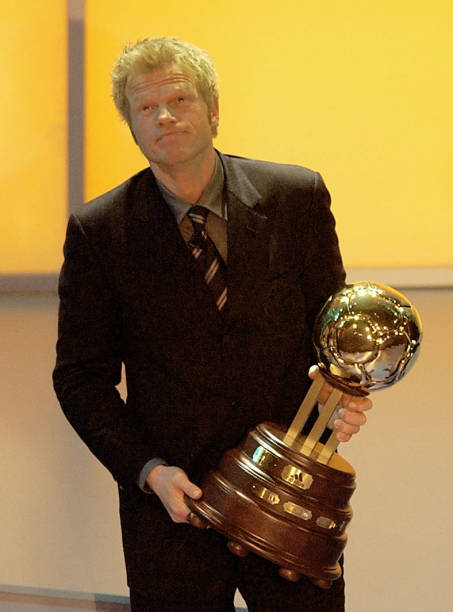 His aggressive approach demanded quality and focus at all time and Khan was well known for letting his defenders know his feelings if things didn't go as they were supposed to. But it was that clamour for perfection that made him the first and only goalkeeper to be crowned UEFA's Best Goalkeeper for four consecutive years.
His international career as a starter never quite hit the heights of winning a tournament, but he was still absolutely influential in the success Germany did have.
At the 2002 World Cup, Khan was captain and a starter in every game conceding just one goal en route to the final. Coming up against R9's Brazil, Kahn demanded to play in the final despite having torn ligaments in his finger. His error led to Ronaldo's opening goal, as he fumbled a Rivaldo shot into the striker's path as Brazil won the final 2-0.
Despite that, Kahn refused to blame the injury and his performances earned him the honour of being the first and only goalkeeper in history to win the Golden Ball – ahead of Ronaldo. In 2001 and 2002 he finished in third place of the Ballon d'Or too and was named in the FIFA 100 list by Pele back in 2004, such was his standing in the game.
Tremendous reflexes, great power, a great throw to start counter-attacks, unrivalled leadership and mentality and one of the most commanding goalkeepers of all-time. The next time there is a conversation about the best goalkeepers ever, remember Oliver Kahn's greatness.