Back in January 2021, Chelsea were sat in ninth place in the Premier League table four points off the top four and even further away from the top while managed by club legend Frank Lampard.
In the top position were Manchester United, managed by former striker and club legend Ole Gunnar Solskjaer after overcoming a tough run in the middle of the winter and coming through spades of criticism.
Fast forward to the end of the season, only one of those men is still in their job while the other has been crowned as champion of Europe by winning the UEFA Champions League.
Interestingly though, it's the London club that have gone on to prove their potential after changing managers at the turn of the year.
Thomas Tuchel was brought in after being sacked by PSG just a few weeks before and since his appointment, the Blues have had the best defensive record in Europe. Add to that the fact they have won the Champions League, made the FA Cup final and finished in the top four then it's hard to argue that the decision was a bad one.
On the other hand Manchester United finished second in the league, finishing 12 points behind Manchester City, crashed out of the FA Cup at the quarter-final stage and were beaten on penalties in the Europa League final by Villarreal.
Chelsea's hierarchy saw that Lampard was struggling to get past a certain point with his squad, despite the heavy investment and short period of time. He was falling out with members of the squad such as Antonio Rudiger and Cesar Azpilicueta, while also failing to get the best out of new signings.
A dip in form that saw the situation deteriorate saw Roman Abramovich pull the trigger and bring in a coach with more experience and a tactical mindset, used to challenging for top honours and getting the best out of a top squad.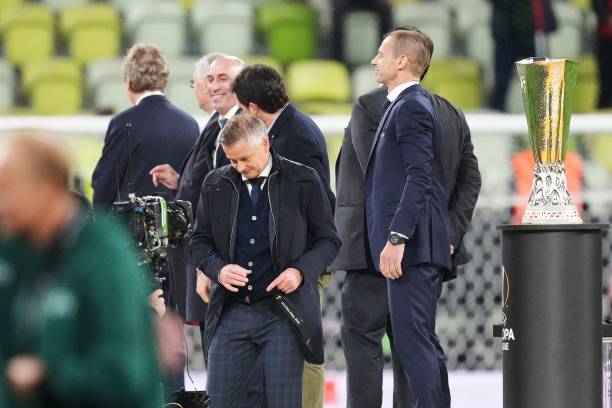 That change had been criticised at the time for not giving Lampard any time to turn it around, but he like many fans had seen enough. Lampard wasn't the man to take them where they wanted to go, even going as far as to say that the team "wasn't ready to compete yet." Just five months later they're kings of Europe without anything more than coaching being the difference.
It leaves Manchester United and their fans with a bit of 'what if' syndrome. What if they had sacked Solskjaer when they were struggling and brought in Tuchel or another top coach? What if they didn't accept second place and no trophies as progress?
Solskjaer has done a pretty good job since coming in. He's steadied a very rocky ship, laid foundations for a side that can compete and identified problem areas that need to be improved upon. But on the pitch as a coach, he has struggled to really make a huge impact.
United don't really have a set way of playing under him and they don't have a goal that typifies their approach play. You can watch a Guardiola team score a tap in from the penalty spot onwards after their full-back has cut the ball back probably around 20 times a season. You know when you watch Tuchel's Chelsea what to expect, but with Ole's reds it just isn't clear. The only goals they score repeatedly are counter-attacks or penalties.
The biggest thing they are missing is a style of play and a footprint from a coach. Everyone and their grandmother can tell you that United need a defensive midfielder, but because we don't know the style in which Solskjaer wants to play it's hard to say who the best option is for the role.
A coach with a real identity to their play would be ideal to take this Manchester United side to the next level. There's no shame in the club noticing that Solskjaer may have hit his ceiling and amicably going separate ways.
Southampton did it in the past to bring in Mauricio Pochettino, Wolves have just done it with Nuno Espirito Santo. There's real potential for growth with United and a proper coach, it's just whether they are content just challenging or if they're willing to take a risk to push to the next level.