It's been a long time coming, but Leon Edwards finally has the chance to become a true household name in the welterweight division this weekend when he fights Nate Diaz at UFC 263.
The Briton comes into the fight unbeaten in his last nine fights in a row, with eight consecutive wins followed by a no-contest against Belal Muhammad back in March for an accidental eye poke.
Yet despite that run that has seen him undefeated since way back in 2015, he's still almost an after-thought when you talk to some fans about the contenders of the welterweight division.
But now, he is the chosen one. Hand-picked by the fan favourite and arguably most popular fighter in the game Nate Diaz.
Since his classic double header with Conor McGregor back in 2016, Diaz has been incredibly selective of his opponents and reasons for fighting. He decided after losing the rematch to McGregor that he deserved money fights since he was part of such a huge drawing PPV, but the UFC didn't really agree.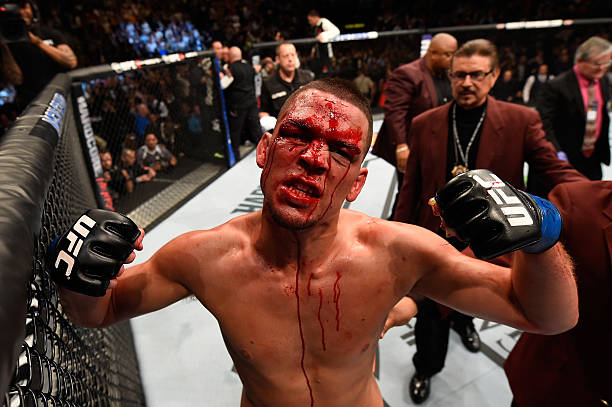 They claimed he only got that because of his win in the first fight, with people tuning in for Conor's redemption rather than to watch Diaz compete again. They were proved wrong.
After three years away, Diaz returned to fight Anthony Pettis at UFC 241 and turned in a spectacular performance to get the win. But on top of that, he drew big money once again. While not in the main event that night, Diaz's return was the hot topic after it was announced and was one of the biggest stories of the entire card – which is huge considering the main event was Daniel Cormier vs Stipe Miocic 2.
After that fight he called out Jorge Masvidal, another guy who had taken his popularity to a new stratosphere with fight fans. The fight was made and because of the sheer fan reaction to it, not only did Dana White make a title belt specifically for the fight but it was the first non-title five round pay-per-view main event since his McGregor rematch.
Even though he lost that fight, the nature of the defeat made him even more popular. A doctor's stoppage due to a cut after the third round gave everyone involved a sense of anti-climax and left fans thirsting for more of Diaz.
Now, almost two years later, he has hand-picked Edwards as his next opponent. According to Diaz, he wants to beat "the best of the best" and he sees Edwards as just that. He described him as a "bad motherfucker" and says that since nobody else wants to step up and fight him, he'll gladly do it.
Edwards has found it notoriously difficult to find opponents in recent years. Despite beating Rafael Dos Anjos, Gunnar Nelson, Donald Cerrone and Vicente Luque throughout his run, he's not been given a title shot or even a title eliminator up to this point.
The reasons at first were his ranking being too low, then he worked his way up and people said he wasn't a big enough name. Now he's got a name and ranking, COVID-19 and an eye poke have halted his momentum.
But this fight is a chance for him to make that leap. A win over Diaz is almost expected when you look at their recent fight history and styles, but it's never a given. Diaz has earned his reputation as one of the most durable fighters ever and technically is gifted both on the feet and on the mat.
If Edwards is as good as he says he is, he should be able to beat Diaz though. If he does that, like he says he will, then there will be no reason for him to not get the next shot at Kamaru Usman.
He'll have the attention of the world, he'll have the ranking, he'll have the name and he'll have the results to back it all up. This is the chance he's been waiting for, now he needs to take it with both hands.