It will have been 2424 days since we've seen Nick Diaz in the octagon, or any type of official mixed martial arts bout for that matter, by the time UFC 266 rolls around.
The former Strikeforce welterweight champion hasn't fought since UFC 183 in 2015, when he and Anderson Silva battled to a no-contest after both tested positive following the fight. That positive test, for marijuana, saw Diaz initially banned for five years before it was appealed and changed to 18 months.
After back and forth with the Nevada State Athletic Commission meant he couldn't be in the corner of his brother Nate at UFC 196 and UFC 202, he is back and will fight Robbie Lawler at UFC 266 this weekend.
It's 209 months since their first fight at UFC 247, 17 years ago. where Diaz shocked many by engaging in a stand-up war with 'Ruthless' and coming out victorious in a hugely impressive second-round knockout win.
Since then, their careers went on entirely different paths though. Lawler would go on to become the welterweight champion of the world, defeating Johnny Hendricks before defending the belt twice against Roy MacDonald and Carlos Condit.
Diaz eventually got cut from the UFC, before dominating in Strikeforce and then returning to the octagon, only to have a record of 1-2 1NC in his four fights against BJ Penn, Condit, Georges St-Pierre and Silva.
But in recent times, this rematch makes even more sense than it has at any point in their careers.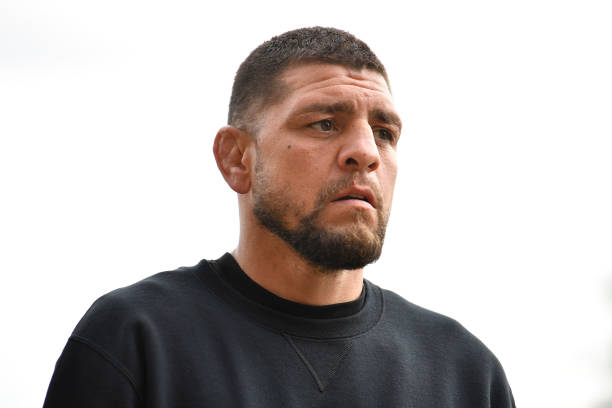 While Diaz has been away from the fight game competitively, Lawler has gone 3-5 including losing each of his last four bouts. His decline is well and truly in full flow and he's not quite the fighter he once was, but those defeats all came to wrestlers who were able to eventually get him down and dominate him.
Diaz hasn't been around for years, but it's hard to imagine he will implement that tactic for the fight. He out-struck him all those years ago when he was deemed just a jiu-jitsu fighter, and his boxing only got better as the years went on.
If Diaz can claim a victory, then not only will it be a brilliant comeback story but it could be the start of something magical.
The chances of a potential title run are slim because Kamaru Usman is just that good and at the age of 38 Diaz is likely past his best, especially after missing so many years of competitive fighting. But there is great potential for some stunning fights that would get fans salivating and earn him a bucket load of cash.
The obvious shout would be against Jorge Masvidal, who beat up his little brother in the main event of UFC 242 to claim the BMF title. There were rumours back then of a potential fight between the two but now it could be a reality, and fans would absolutely eat it up.
Considering this fight will now be taking place at middleweight, there are options there too. Darren Till needs a fight after a second straight defeat and the trash talk that would take place beforehand would no doubt be legendary.
Diaz is a superstar, and he was one way before the sport of MMA took off the way it did in the last decade. He's one of the most popular fighters of all time and his return is making waves as expected. A win only opens up more possibilities for him and the UFC to make waves across the world.