It's been a while since England had a bunch of successful talents in their squad that were playing abroad at the same time.
It's possible that it's never even been a thing in all honesty but the current squad is full of players who have made a name for themselves outside of the Premier League's four walls.
Kieran Trippier, Fikayo Tomori, Jadon Sancho and Tammy Abraham are all involved in the England squad for upcoming internationals against Andorra and Hungary.
Each of the four have spent time outside of the Premier League refining their game and becoming key members of squads in Europe, although Sancho has obviously since returned to England with Manchester United this summer.
It used to be the case that players that were plying their trade abroad were overlooked, with even David Beckham struggling for selection once he left Real Madrid for the MLS and Owen Hargreaves taking far longer than it should have to get a call up when he was at Bayern Munich.
But with a plethora of young talent moving to the Bundesliga in order to secure themselves regular first-team football, manager Gareth Southgate has seemingly welcomed it with open arms.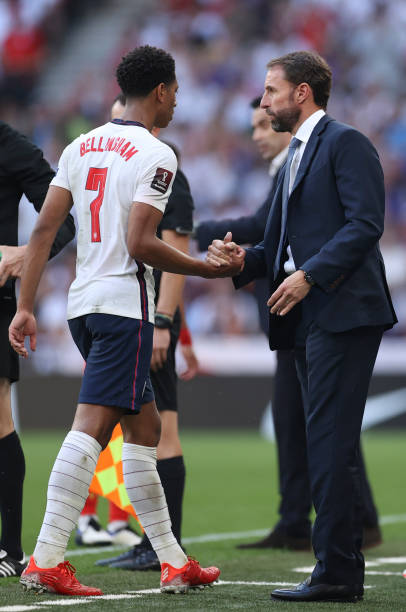 Jude Bellingham has been a regular in the squad recently despite being only 18, because he has been a key part of Borussia Dortmund's midfield in both the Bundesliga and Champions League.
Tomori has shone for AC Milan since joining the club on loan from Chelsea in January last year, and was unlucky not to get a call-up to the Euro 2020 squad with his form.
Trippier has almost solidified his place in the team since joining Atletico Madrid, even becoming a left-back option such is Southgate's insistence on involving him.
Sancho is in the squad because of the talent he has shown during his time in the Bundesliga after a slow start to life in England, with the boss even admitting that he probably doesn't deserve the call-up on current form.
Abraham initially missed out on the call, but Southgate added him in later after his excellent start to life in Rome with Jose Mourinho and AS Roma where he has scored four goals and registered two assists in nine appearances so far.
It's a positive sign from the gaffer and from the international setup now that young players shouldn't be afraid to go abroad and get game time. In the past they may have been forgotten or overlooked, but not anymore.
If you're good enough and stand-out enough, you'll get your recognition at international level.