International managers are usually those who can't cope at club level, or those who have been managing so long they want a part-time role now.
But currently the international scene is filled with quality managers who while they've got their stripes already with clubs domestically, still have plenty to prove.
Germany are managed by treble-winning Hansi Flick, European champions Italy are managed by multi-time Premier League and Serie A winner Roberto Mancini, world number one ranked Belgium are managed by Roberto Martinez. But the one catching the eye the most right now is Spain's Luis Enrique.
---
---
The Spaniards were by far the most entertaining team to feature at Euro 2020 and were so close to making the final, only losing on penalties to eventual winners Italy after a brilliant semi-final contest.
But Enrique and his side got their revenge against Italy on Wednesday in the UEFA Nations League, beating the European champions 2-1 thanks to a brace from Ferran Torres in the first half.
But more than the result was the performance, as Spain dominated the play for the most part and had a clear style and plan that they never wavered from, even when Italy were reduced to ten men after Leonardo Bonucci was given his marching orders for a second yellow card.
Enrique's vision is clear. He wants possession football, with movement in attack, control in midfield and stability in defence. Everyone must be comfortable in possession and they must trust each other, with a big emphasis on fitness to ensure that the tempo is high at all times.
When he implemented this style at AS Roma years ago, the side initially started well before falling off. He was a young, up and coming manager and was still finding his feet. People make mistakes. But what counts most is how you bounce back from those errors, and Enrique has done that perfectly.
He went to Barcelona and won the treble, although much of the credit for that went to the infamous 'MSN' attacking trio of Lionel Messi, Luis Suarez and Neymar.
But it was Enrique who introduced Ivan Rakitic to the side on a more regular basis and ensured that there was always that control in midfield, even when the maestro Xavi wasn't around.
The football Barcelona played was more than just 'MSN' though, they were mesmerising to watch. They scored 171 goals in all competitions across 61 games, averaging 2.8 goals per game and conceding just 39 goals, an average of 0.63 goals per game.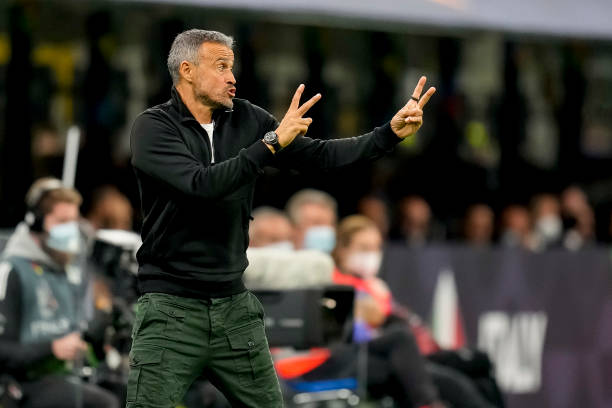 He's now taken that up a level with Spain, by managing to implement that style in a shorter period of time with his squad but also to do it with a squad that is lacking in superstars.
This is arguably one of the weaker Spain squads in recent memory, but Enrique has got everyone singing from the same hymn sheet and has been able to bring a club-like spirit to the team as well as quality performances on a consistent basis.
At only 51-years-old, Enrique has still got the world at his feet in terms of club football management.
Yes he's won it all, but better than that would be to win it all again. He's good enough, his methods clearly still work, and there will be plenty of clubs knocking on his door in the near future should they part ways with their boss.