Belgium continued their winless golden era as they blew a 2-0 lead to world champions France as they crashed out of the UEFA Nations League in the semi-final stage.
Yannick Carrasco and Romelu Lukaku gave Roberto Martinez's side a 2-0 lead at half-time as the Red Devils turned in a very solid display in the first half. The second half however was a completely different story, with France dominating.
Karim Benzema pulled one back after great work and link-up with Kylian Mbappe, before the PSG man equalised from the spot just minutes later. Lukaku thought he had won it for Belgium late on but a marginal offside call was made by VAR, before Theo Hernandez slammed in a late winner for the world champions.
---
---
It marked yet another occasion that Belgium, who have been ranked as the number one team in the world by FIFA since 2018, failed to reach a major final in an international tournament.
It's supposed to be their golden generation too, with all of Thibaut Courtois, Toby Alderweireld, Jan Vertonghen, Axel Witsel, Youri Tielemans, Yannick Carrasco, Kevin De Bruyne, Eden Hazard and Romelu Lukaku part of the squad on a regular basis over the last few years.
But once again they have failed to deliver, and their poor performance in the end was summed up by their influential captain Hazard's lack of form.
The former Chelsea man has been a shadow of himself since moving to Real Madrid in the summer of 2019 for £100m, with persistent injuries and a lack of quality in his game.
It showed once again here as the skipper lacked his trademark explosion away from defenders, often slowing the game to a walking pace. His passing was off, his creativity non-existent and Belgium essentially played with ten in attack while he was on the pitch.
Real Madrid have managed to win La Liga without him and Karim Benzema is still flourishing. His new partnership with Mbappe at international level will only have Real Madrid's board scratching their heads at the point of keeping Hazard around next summer if he doesn't quickly improve.
As for Belgium, it was more of the same. Their individual quality comes through in drips and drabs and against most teams they are able to tear teams apart, but against sides that can match them for quality they seem to crumble under pressure.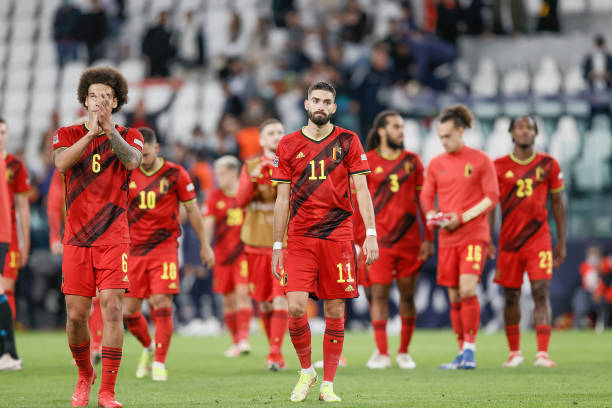 Hazard and De Bruyne are now in their 30's, the three regular defenders are all mid-30's, Witsel is 32 and Lukaku is 28. A large chunk of this team is coming to the end of their international career and the replacements while good, aren't quite what these guys once were.
It's a missed opportunity and a real waste of talent for one of the most exciting pool of players in world football over the last seven years or so.
They'll have to rebuild and restructure their team now, while France and Spain battle it out for yet another international trophy after once again getting it right.