Weight cutting has long been a topic of discussion in the MMA world, with many disputing just how necessary it is for fighters.
Often you'll see fighters cutting 20+lbs of weight during fight week in order to make their weight class before pouring the weight back on before they get in the cage, just so that they can have as much of an advantage as possible on fight night.
In recent years, we've started to see a change in mentality from fighters though as the sport evolves and fighters become more and more skilled.
---
---
Fighters like Michael Chiesa, Henry Cejudo, Dustin Poirier and Israel Adesanya have opted to move up in weight and found great success at their more "natural" weight class, as opposed to killing themselves for a slight edge.
With the women's weight classes being so light however, the 10lbs space between the divisions tends to leave a few of them in the in-betweener stage.
Take for example Aspen Ladd, the women's bantamweight contender who has suffered defeat just once in her professional career. Ladd has however struggled with the 135lbs weight limit throughout her UFC tenure.
Her debut was scrapped when she fell ill on the day of the fight owing to a rough weight cut. She then missed weight by 1.8lbs two fights later and the fight was scrapped when Leslie Smith refused to fight at a catchweight.
She then just about made weight against Germaine De Randamie, despite shaking and wincing in pain on the scale. She was cleared by the Nevada State Athletic Commission but following her 16-second knockout defeat, she was suspended after it was found that she had gained 18% of her weight back between weigh-ins and fight night.
Most recently though, her fight against Macy Chiasson at UFC Vegas 38 was scrapped when Ladd once again was visibly shaky and in pain on the scale as she missed weight by 1lbs. The fight was cancelled when the doctors failed to clear her.
Yet just two weeks later, the 26-year-old finds herself named as the A-side in a main event bout against Norma Dumont at UFC Vegas 40 in the featherweight division.
Now, granted that the bout is up a weight class, but how is it that Ladd is being rewarded with an immediate new date and main event slot so soon after missing weight yet again?
Chiasson will have to wait for a new opponent, have a new fight camp in preparation and continue working her way up the ladder, while her opponent who broke the rules gets an upwards push.
Considering that UFC president Dana White has regularly slated fighters for not making weight as unprofessional, his decision to move Ladd into this spot is odd.
Should she win, the UFC will likely pretend it never even happened and she'll be pushed as a potential contender to Amanda Nunes' second belt.
Maybe it's the timing that makes the entire thing seem off, but the UFC have rewarded someone who couldn't do their job properly and tried to shortcut their way to success.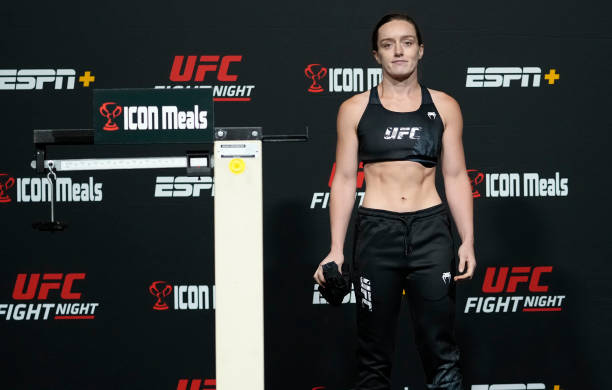 She'll now get her show money that she missed out on previously because she gets a new fight so quickly, a potential win bonus and performance bonus if it goes well and a brand new opportunity to start fresh.
It's a bad example that the UFC have set and if it continues to happen in the future, don't be surprised to see even more fighters missing weight because of a lack of consequences.