In every generation of football there is a selection of players that while they may not see the greatest level of success, are never forgotten by the fans.
These players are usually the ones that kept the fans on the edge of their seats during games, provided memorable moments and played the beautiful game in a beautiful way.
This series is dedicated to celebrating those players and giving them their flowers now, before they fade into the distance and it's too late.
---
---
One player who has maintained his reputation through several generations is Nigerian superstar Jay-Jay Okocha.
So good they named him twice, Okocha had a successful career with teams such as Fenerbahce and Paris Saint-Germain, but it was arguably during his stint with Bolton in the Premier League that his star shone brightest.
After a successful youth career with Enugu Rangers, Okocha moved to Germany after a holiday to Europe ended with him receiving a contract offer after joining in with training with a friend.
He impressed and earned himself a permanent move to Bundesliga side Frankfurt, where he began to make a name for himself. It was during this spell where he scored arguably his most famous goal, which earned Goal of the Year for 1993 in Germany.
Okocha received the ball in a one-on-one scenario with the brilliant Oliver Kahn charging towards him. Okocha took the ball to his left, then chopped the ball back to his right and had Kahn scrambling.
Then as he wound up to shoot he chopped back again, sending Kahn to the floor. He then beat two defenders with his mazy dribbling, before chopping and changing direction and then blasting the ball into the net with his left foot.
That goal summed up Okocha's playing style in a nutshell.
It was all about enjoyment with him. The Nigerian always played football with a smile on his face and while winning was important, as it is for any professional, you could tell he wanted to win with fun and flair.
A move to Turkey saw him become synonymous with free-kick taking, with the majority of his 30 goals in 62 appearances coming from set-pieces.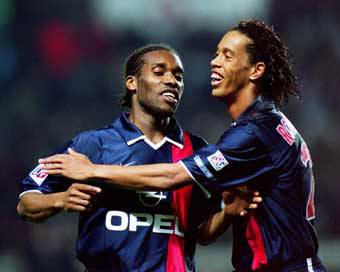 Then he moved to PSG where he helped to nurture a young Ronaldinho during a four year spell in Paris. The flicks and tricks were still apparent in his game but he was now more mature and senior. It showed too, as he prioritised efficiency over flair.
But a move to Bolton seemed to change his mentality. Joining Sam Allardyce's side in the Premier League seemed to spark a new lease of life in him.
He was given a free role in the side and was allowed to be himself, with the manager setting the team up to protect from if he or anyone else lost the ball.
The famous moment that most remember these days is his skills against Arsenal at the Reebok Stadium.
With Bolton drawing 2-2 against Arsene Wenger's side late on, they looked to see the game out in the corner flag. Not Okocha though. As he received the ball short, he turned and faced up Ray Parlour and produced a brilliant rainbow flick over his head to beat him on the touchline.
The ball went out of play, but it was a moment that captured the imagination and is still replayed to this day.
It's testament to such a talent that Okocha has these moments that will never die, because he is a player who's talent should never be forgotten.
One of the true giants of African football and one of the great entertainers of his generation.
History may forget him one day, but the streets never will.