The UFC returned to Fight Island this past weekend and once again there was a Russian lightweight dominating in his division that took a lot of the headlines.
Instead of Khabib Nurmagomedov at UFC 254 though, this time it was Islam Makhachev at UFC 267 as he took Dan Hooker to the mat and mauled him into a kimura submission win in the first-round of their highly anticipated bout.
It was a marquee name to add to Makhachev's resumé, as he cemented himself among the top five and likely moved up into the top three of the UFC's rankings at 155lbs with the win.
---
---
With the lightweight title up for grabs at UFC 269 in December in a bout between Charles Oliveira and Dustin Poirier, many are looking at UFC 268's blockbuster bout between Justin Gaethje and Michael Chandler as the potential number one contender fight for the winner.
However with such a dominant and one-sided win for Makhachev in Abu Dhabi, what is next for him?
In reality, it should be the title shot. Makhachev's nine-fight win streak is now the third longest in UFC history at the weight, behind only Khabib's 13-fight run and Tony Ferguson's 12-fight streak that was ended in May 2020.
He has beaten contenders all the way through the rankings and the only thing missing from his list of victims is one of the current ranked top five fighters.
Despite this though, he has more than earned his shot. His win streak is unmatched but on top of that both Gaethje and Chandler have already had title shots in their most recent fights and been beaten.
Poirier is more than deserving of his title fight which he'll get next month, while Beneil Dariush is on a seven-fight win streak but only one of those opponents was ranked in the top ten at the time of their bout.
A fight against either Oliveira or Poirier would be a fresh match up for fans and would be highly competitive. It is the perfect and most logical next step for the organisation, the division and for Makhachev himself.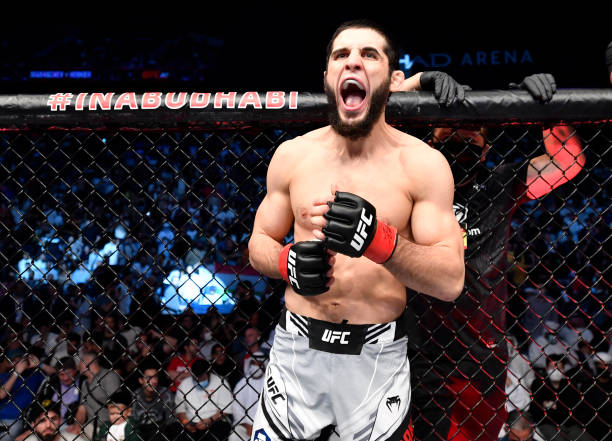 Should something crazy happen in that bout and it makes the bout impossible to make, then he should face the winner of the Gaethje and Chandler match up.
There is no world where the winner of that fight should get a title shot ahead of him, with Gaethje having previously lost to Poirier in their fight and Chandler getting KO'd by Oliveira as recently as May.
Whatever happens, it would be a travesty for Makhachev to miss out on the next title opportunity. He's not only winning fights, but he's finishing opponents and looks better with each and every outing.
He has proven Khabib right as the uncrowned heir to the throne, he now deserves the chance to claim that position as his own.