Every great fighter in the history of the combat sports world has had someone that pushed them to their limit and helped them to see greatness.
Muhammad Ali had Joe Frazier, Khabib Nurmagomedov had Conor McGregor, Jon Jones had Daniel Cormier and it's fair to say that Kamaru Usman has Colby Covington.
You'll find very few people who disagree with the fact these two are the gold standard when it comes to 170lbs fighters in the UFC in the modern era, arguably the best we've seen since Georges St-Pierre's reign in the mid 2000's.
---
---
Their first fight back in December 2019 was the first defence of Usman's now historic title reign.
Covington was seen as the rightful contender having been stripped of his interim title after opting to undergo sinus surgery, allowing Usman to swoop in and demolish Tyron Woodley to claim the belt for himself.
That fight at UFC 245 went down as an all-time classic and one of the best title fights in the companies history, with Usman scoring a fifth-round knockout after a stand-up war between two of the best wrestlers in the division.
Since then Usman has beaten Masvidal twice, including with a violent knockout at UFC 261, and Gilbert Burns via knockout at UFC 258 too, while Covington finally got his win over Woodley at UFC Vegas 11 in September last year.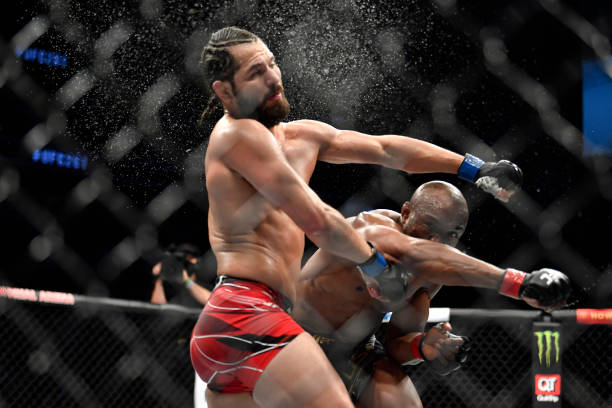 Ultimately, Usman has cleaned out the division for the most part. He has beaten all of Leon Edwards, Demian Maia and Rafael Dos Anjos as well as those previously mentioned to become one of the true greats of this era. He's even recognised as the pound-for-pound number one in the company.
But a win over Covington at UFC 268 this weekend could separate him from the pack even further.
This is supposed to be the fighter who is closest to being his equal. The first fight was super close and ultimately a broken jaw was the difference as the damage became too much to endure.
But if Usman is able to do it again, and in a more convincing fashion, then how is anyone supposed to beat him?
Edwards is undefeated in ten fights and will fight Masvidal at UFC 269, with a win guaranteeing him the next title shot, while Khamzat Chimaev proved the hype was real with his dominant submission win over Li Jingliang at UFC 267.
But Chimaev is still a few fights away from title contention in reality and Edwards has already suffered defeat to Usman. While that was in 2015, stylistically Usman still has a huge advantage over Edwards and it would be a big upset if the Brit was to win the title.
Usman has a chance to do something that GSP never did at welterweight, and that is completely clean out the division. If Israel Adesanya hadn't been the champion at 185lbs, it's pretty clear that Usman would have moved up to try and take that belt too.
But with neither looking like losing their belts any time soon, Usman can shut the book on this 'rivalry' with a second straight win over Covington and cement his legacy as one of the greatest pound-for-pound fighters of all-time.