I've been putting this comparison off for as long as I could, simply because Georges St-Pierre is one of my favourite fighters of all-time.
But we've reached a point in time in the UFC now where there is a genuine and deserved debate as to who the welterweight G.O.A.T is these days.
Kamaru Usman has made himself inevitable now, moving to 15-0 in the UFC and 20-1 in his professional career after a successful fifth welterweight title defence at UFC 268 this past weekend.
---
---
But who is the greatest welterweight fighter of all-time? Is it Georges St-Pierre or Kamaru Usman? Who would win if they both fought each other at the peak of their powers? Lets break it down and find out.
Every fight starts on the feet, so we should probably start off with who would win a straight striking match between the two.
Usman has developed his skillset over the last two years or so to become one of the best on the feet in the division. He has an absolutely brilliant jab, using his reach to manage range and he has developed a kill-shot of a right hand that has turned the lights out on the likes of Colby Covington, Gilbert Burns and Jorge Masvidal.
Georges St-Pierre though was a different level. GSP's jab was excellent but he also had tremendous kicks from his karate background and great power too. Both men are durable, but technically GSP was much further ahead of the curve in the striking realm and he would have the edge here.
GSP's greatest successes in the octagon came once he developed his wrestling game to a level where he could take anyone down and control the fight.
The issue for him this time, is he is not going to be able to do that against Usman.
'The Nigerian Nightmare' is a brilliant wrestler, possibly second only to Khabib Nurmagomedov in UFC history. Officially he has a 100% takedown defence throughout his UFC career (although most believe Covington took him down during their UFC 268 bout).
He has the strength advantage between the two and I think because of the striking edge going in GSP's favour, Usman would likely use his wrestling in this bout and that's because he is the better wrestler.
Both fighters have got a tremendous gas tank and experience of performing on the biggest stage of them all. They have been through wars, fought fierce rivals, earned knockouts and submission wins – they really have done it all.
It would undoubtedly be the biggest fight in UFC history but it would almost certainly not be the most exciting.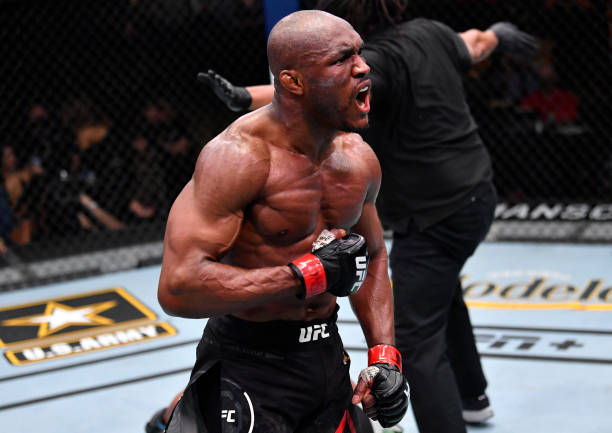 The prettier this fight is, the more chance of St-Pierre winning and that means that Usman would make it as ugly as possible. He would use his grinding style to close the distance, use his jab to set up takedowns and control top position whenever given the chance.
It would be razor close, simply because St-Pierre is that talented. But ultimately, Usman is the man and I would have him as the favourite to be the undisputed G.O.A.T by the end of 25 minutes together in the octagon.