We are already into match day six of the 2021/22 Women's Super League season and so far, other than the injury-stricken start to the season that Manchester City are having, we are yet to see many upsets to the other components of the 'Big Three'.
Whilst City have dropped numerous points to opposition that they previously would have comfortably beaten, Arsenal have been completely dominant – yet to drop a single point in the WSL so far, and only conceding two goals in the first game of the season against reigning champions Chelsea.
Meanwhile Tottenham, who in the previous season found themselves in a relegation battle, have enjoyed a great start with four wins out of the first five games.
Week six brought us some matchups that saw teams that we could expect to finish in and around that fourth spot – with Manchester United taking on Spurs while Everton and Brighton faced off. Here's what happened.
---
---
Aston Villa 0-1 Chelsea
Ever the embodiment of a Carla Ward side, Aston Villa presented a difficult entity for Chelsea to breakdown.
As expected Chelsea absolutely dominated the ball, having 76 percent possession and boasting 16 shots in the game, despite Emma Hayes heavily rotating her starting lineup.
Within this, a rare start for the talented Canadian starlet Jessie Fleming – who went on to score the eventual winner; scoring a neat and composed finish following a great pick out from Ji.
The defensive set-up from Villa definitely did its job in frustrating Chelsea, but the quality that they possess – even when they rotate – is clear to see.
Everton 0-1 Brighton
Following the managerial change that happened at Everton after the sacking of Willie Kirk, I was interested to see how they'd look against a well drilled side in Brighton who like Tottenham, have enjoyed a good start to this new season.
New Everton manager Jean-Luc Vasseur attempted to provide some stability to his new squad by keeping the same starting XI as the midweek cup match, and someone who benefited from this was Kenza Dali, who again looked like a bright spot in the Everton team.
Despite this, it was Brighton that were able to score the winner in the second half, after Danielle Carter played in Aileen Whelan – a win that puts them fourth in the table as it stands.
Tottenham 1-1 Manchester United
As a United fan assessing the opposition before the game, I was aware that Tottenham were going to be narrow and compact – a problem that Manchester United boss Marc Skinner also alluded to both pre and post-match.
There seems to be a real lack of width in Skinner's United side – an area that was previously used as a point of emphasis under Casey Stoney. Under Stoney we saw left-winger Leah Galton being utilised a lot more than she currently is, stretching opponents with not only width but also her pace and trickery at the by-line with her ability to accurately cross.
However, against Spurs, we once again saw a real lack of width which often made it easy for them to stop United in their attacks.
A key missing point for the United side was also the absence of midfielder Jackie Groenen who is vital in how they set the pace of the game.
Too many times were the United midfield especially caught on the ball in that first half and they were lucky to go into the half 1-0 up. That goal does however need its own special mention as Alessia Russo (who I've previously spoken so highly of), brought some individual brilliance with a wonder strike on the brink of HT.
She was on bully mode for the entire game – constantly pinning defenders on the halfway line and beyond. This allowed her not only to relieve pressure on the team, but also to bring the wingers and fullbacks into play. Her fantastic performance, as well as crucial saves once again from United keeper Mary Earps almost brought the team the three points. 
However, Spurs stayed in the game till the very end, and their determination paid dividend as defender Millie Percival saw her 94th minute free-kick sail all the way in without a touch. The bounce appeared to confuse everybody in the box and much to the delight of the Spurs players, rewarded the side with a well-earned point.
Leicester 1-4 Man City
Leicester scored what was only their third goal of this league campaign against a City side that are slowly starting to get important players trickling back into the side following injury lay-offs.
However, the Foxes goal in the first 90 seconds of the game didn't stop City from sealing all three points – with Leicester continuing to give away too many chances in games.
They managed to carve out some chances in the game, but overall City were too good for them and managed to overpower them in the end. Lauren Hemp was a constant threat and the pick of the bunch from the City goals has to be awarded to Keira Walsh who unleashed an unstoppable shot from outside of the area giving the keeper no chance.
Birmingham City 0-3 Reading
Birmingham City were unable to respond to Reading's dominant display at their ground – with another young Canadian starlet Deanne Rose shining brightest.
Kelly Chambers' Reading side looks to be shaking off their initial early season rust and have now put together two consecutively strong performances in the league, with the forwards especially in this game combining well.
The loss however puts an even bigger strain on Birmingham City in their bid to stay in the league, as they still only have one point on the table. They'll be looking to start building in next week's derby against Villa.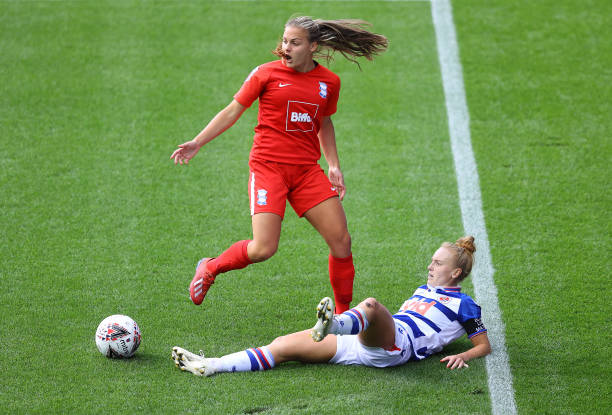 Arsenal 4-0 West Ham
Where to start with Arsenal? They simply just do not look like conceding right now, and this coupled with the fact that they seem to be scoring at will makes them an extremely scary prospect for the league and for their competitors' title chances.
Once again, the ever-dependable Kim Little was front and centre to everything good that Arsenal did in the game. The nimble and intelligent Little opened the scoring with some clinical finishing late into the first half and not content with just scoring one, she went on to score her 50th league goal soon into the second half also.
Not wanting to miss out on the fun, probably one of the most in-form people in football right now Beth Mead joined in, adding a third after great work from Nikita Parris in the middle of the pitch.
The great thing about this Arsenal side is that they look like they can score from any area of the pitch, as well as the fact that they work with such intensity even when out of possession in order to win the ball back. West Ham made some good openings, but Arsenal never really looked like conceding.
---
Next Week is Women's Football Week, so look out for some ones to watch on Friday!