It was the most expensive transfer of the summer across the world, as Jack Grealish became the Premier League's first ever £100m player.
Joining Manchester City from Aston Villa, it was expected that the 25-year-old would see an upturn in his reputation and also his performances on the pitch after helping Villa to a great season and then helping England reach the Euro 2020 final.
But while Grealish has played well, he's hardly ripped up any trees at City so far. So is the deal doing what it was supposed to do?
---
---
It was expected by many that Grealish would go into the City team and instantly go up a level, surrounded by better players and with one of the best managers in the world coaching him.
But what we've seen from Grealish is arguably just more of the same of what we saw at Villa, but with better players and a better manager around him.
With Man City's style of play being ball domination heavy, Grealish doesn't have nearly as much space to drive into as he did at Villa.
It also hasn't helped him that teams turn up to play City with two blocks of defensive lines and camp outside the penalty area to prevent them being carved open, whereas teams would attack Villa and give him a chance to work his magic.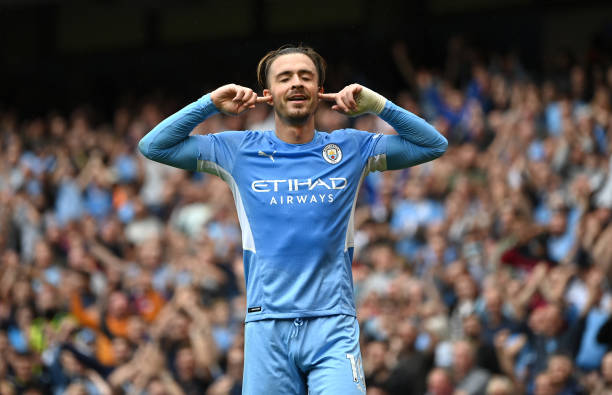 With that said, Grealish hasn't been bad by any stretch of the imagination. Grealish has contributed two goals and three assists in 13 games in the Premier League and Champions League so far, with City sitting second domestically and top of their Champions League group too.
He's made the left-wing role his own, ousting Raheem Sterling and Phil Foden from the wide positions and formed a good partnership with Joao Cancelo from left-back.
But that X-factor that he had at Villa where he would take games by the scruff of the neck and create something out of nothing seems to have left his game.
City still automatically look to Kevin De Bruyne when they need saving and Grealish has seemingly just become a cog in the machine, rather than the guy who has the codes.
Guardiola wants his team to pass teams to death rather than carry the ball too much, something that Grealish has always excelled in. In the current system, it's arguable whether or not Grealish is better or more effective than other wide options like Bernardo Silva, Phil Foden and Riyad Mahrez.
The magic in his game has been lost, but faith in him coming good is not lost.
Grealish, like any other player, needs to be given time to adapt to new surroundings, new teammates, new tactics and new expectations.
He has the talent to excel and improve, is young enough to have the time to do that and Guardiola has a track record of doing it. There's no rush right now.
As it stands, he's probably underwhelmed City fans and football fans since the move. But anyone ruling Grealish out of being a success already is simply delusional.