It seems as though Conor McGregor has taken a particular interest towards the the man that many have dubbed as 'the best boxer in the UFC' in Max Holloway recently.
After his brilliant win over Calvin Kattar on Fight Island in January, Holloway watched on as McGregor was knocked out for the first time in his career by Dustin Poirier just a week later at UFC 257.
McGregor's attentions were firmly on Poirier for their trilogy fight at UFC 264, which he lost due to doctor's stoppage when he broke his leg at the end of the first round.
---
---
Ever since then, 'Notorious' has been vocal on social media about his next bout. He has claimed several times that he wants to fight Poirier again, insisting that they have unfinished business despite 'The Diamond' dominating the first round of their fight before his injury.
He's also had online jousts with the likes of Nate Diaz, Jorge Masvidal, Kamaru Usman and even recently agreed to fight Michael Chandler at some point too.
But it now seems as though McGregor has taken his attentions solely to 'Blessed', who earned another Fight of the Night performance award with a brilliant win over Yair Rodriguez at UFC Vegas 42.
Throughout the night, McGregor was constantly taunting Holloway online about his new tag of 'best boxer in the UFC', claiming someone who has also absorbed the most head strikes in UFC history can't be the best boxer in a series of now deleted tweets.
He went so far as to post a video on his Twitter account of him pacing back and forth around his living room, staring at the TV while the camera was focused on Holloway for his introduction in that fight.
Following Holloway's win, he claimed that he was on the shortlist for a fight with McGregor and that he would welcome a rematch against the former duel-weight champion. But is that the fight to make for both fighters and the UFC?
Their first fight back in 2013 went somewhat under the radar. It was the first time in the UFC that McGregor didn't get a finish, but despite a torn ACL suffered in the first round was able to earn a unanimous decision victory.
Since then Holloway has been on a tremendous run and has become one of the most popular and effective fighters in the companies history.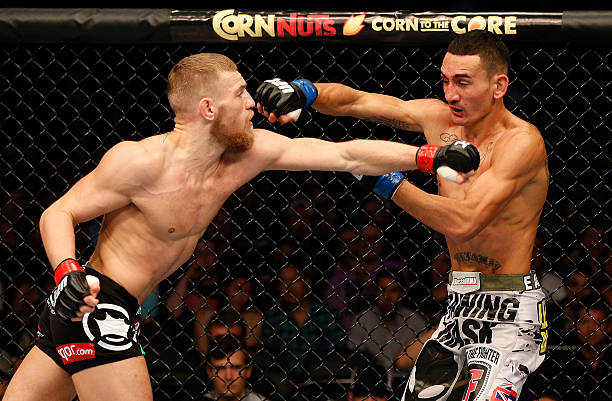 The two men in question are arguably the best boxers in the company, with great counter-striking and power in McGregor's company while Holloway is by far the best ever when it comes to volume and body work.
The match-up would be unique, with Holloway's record of never having been knocked down in his 29 professional fight career being put on the line – while McGregor's new leg and always waivering cardio would get tested again.
It's a fight that would undoubtedly have the fans absolutely buzzing, as two crowd favourites go head-to-head in what would be sure to be a stand-up fight for the most part.
But realistically, it doesn't make much sense. Holloway has earned himself a featherweight title shot now after back-to-back wins since defeats to Alexander Volkanovski, while McGregor in on back-to-back losses and just one win in the last five years.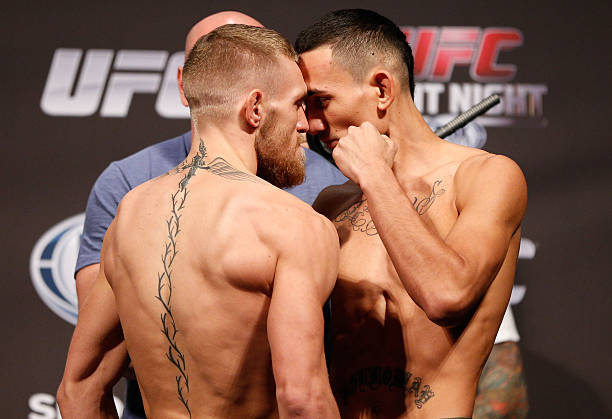 Not to mention that the fight would have to see someone come out of their favoured weight-class, with Holloway competing at 145lbs (with one defeat at 155lbs) and McGregor preferring to fight at 155lbs (despite only one win in the UFC in that division).
Business-wise though, it's bound to appeal to them. If Volkanovski puts up some resistance to fighting Holloway having beaten him twice fairly recently, then finding McGregor an opponent that is main-event worthy and keeps him out of the title picture could really work.
If both fighters were keen for the bout to happen, as it seems they are, and there were viable options for the alternatives, then it's very real that a fight takes place in 2022.
If it did, you could probably take it to the bank that it would be the highest selling pay-per-view event of the year for the UFC.