Women's Football weekend took place last week and was a rousing success for the women's game in the United Kingdom.
Games across the top league were screened on television as exciting matches were played and new stars were born.
But what did we learn from the weekend as a whole and how did it help to shape the Women's Super League season? Lets take a look at three things in particular that came to my attention.
---
---
Vivianne Miedema is clutch
Although this should have been common knowledge prior to Women's football weekend, Vivianne Miedema showed once again why she is deemed one of the best in the world.
With Spurs on the brink of a historic victory against their north London rivals, Miedema rose the highest from a corner in the 92nd minute of the match to grab a point for her side.
Her stoppage time equaliser epitomised everything she's about within the box – not only a hugely physical presence, but more so her desire to sniff out danger and weakness of the opposition.
Viv seemed to understand what was at stake as she headed the ball into the back of the net and her reaction to the goal summed up just how clutch she is.
Immediately after scoring, she instructed Nikita Parris to grab the ball and for the rest of her teammates to focus – shouting "THINK!" as her side sought after a winner. What a player. What a team.
Arsenal are becoming used to winning and it's a feeling that Miedema wants to have running through the club. She embodies everything that the coach Jonas Eidvall is trying to create.
---
Rehanne Skinner is building a resilient team at Spurs.
Having taken over this Tottenham team mid-season, Rehanne Skinner was thrown into the deep end in regard to the fact that the Spurs team that she joined had yet to win a single game, despite being six games into a 22 game season.
She was tasked with steadying the ship last season and starting to build a team that would last in the WSL long term. After having worked with the players now for a year, this Women's football week match epitomised everything that a Skinner team is about.
Spurs had never beaten Arsenal before, and this task was made even more difficult because of the great form that Arsenal are in – before the weekend, they were yet to drop a single point. However, Spurs were able to take away a point and were unlucky not to walk away with all three.
The amount of defensive discipline on display from the whole team just shows how well drilled they've been by Skinner. Their awareness of high danger moments also points towards being an extremely well prepared team as well as the fact that they created many goal scoring opportunities down the other end.
You can really see the changes that Skinner is implementing with the team and everyone seems to be buying into her philosophy. A competitive Spurs only bodes well for making WSL derbies more competitive.
---
Manchester City are really in a tough spot right now
Manchester City's injury crisis is unlike one that I've seen in recent time. At certain points, they've had 5 of their usual starting 11 out with long term injuries – luckily they've had Keira Walsh return to the starting line up following her injury lay-off.
It's less than ideal having your first and second choice keepers out injured and it once again was an area that opposition looked to exploit. Normally these Chelsea vs Manchester City matches end up being the title deciders, however we were met with the opposite of that during Women's football weekend.
City right now, especially in defence, look bereft of confidence and that is heavily down to the fact that they're having to use a makeshift back four.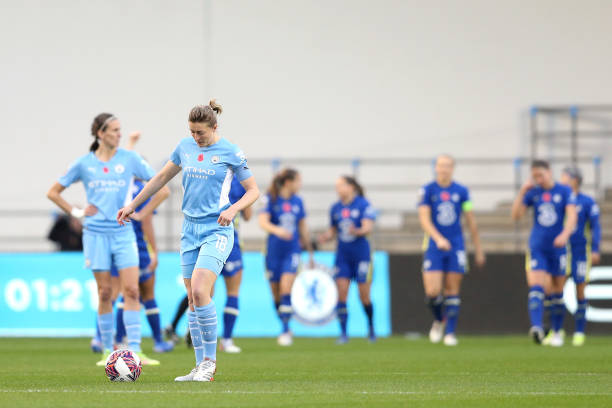 Though Chelsea seemed to show no mercy as Jessie Fleming scored within the first 90 seconds of the game, I actually thought City did well with the ball and we saw shades of what we expect from them – a team that uses the ball really well and can carve out chances from any area of the pitch.
The main issue was that it seemed as though every single shot on target that Chelsea had was resulting in a goal, whilst City were less clinical offensively.
As their injured players trickle back into the squad I expect City to turn it around soon, but they're definitely in a bad spot right now as results don't seem to be going their way – suffering heavy defeats to the other "Big 3" members.