"Football is very simple, players will follow you if they can see you are making them better and my job is to always make a player better."
Well into his 60's, Ralf Rangnick has been involved in football for decades. He was almost always born to be a manager, from the age of just six years old he was always trying to improve people around him, not only in football but in life.
Rangnick has never had a flashy job, he's not that spoken about outside of Germany, however his influence on football is one in which goes back a long time and has shaped the modern game today.
---
---
Rangnick, like Marcelo Bielsa in many ways, doesn't do things the way in which normal managers would and he doesn't look at football like other managers of his generation did.
Also like Bielsa, Rangnick has a slew of managers in the modern game in which he has helped mould and shape. Two of these managers have won the Champions League in the last 3 years playing in a style that has the markings of Rangnick all over it. With front foot, high pressing, high discipline and quick countering styles.
The two managers he has had the biggest influence over are current Liverpool and Chelsea managers Jurgen Klopp and Thomas Tuchel. However all of Julien Nagelsmann, Pep Guardiola, Mauricio Pochettino and Ralph Hasenhuttl have all seen and taken parts of Rangnick's philosophy over the years, and adopted them into their current set ups.
Klopp has stuck to the absolute conditions of what Ralf would consider a great team, implementing and bringing to the UK the biggest component of a Rangnick team, that of 'Gegen-pressing'.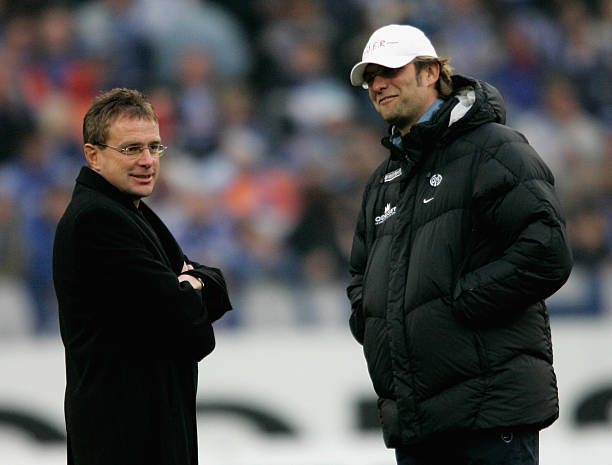 Gegen-pressing, or counter-pressing, is something that is widely used now in various different versions. Klopp and Pep have their own way of using it, but Klopp has Rangnick's exact philosophy and set up for it which is smash mouth, in your face and complex press triggers that opponents will struggle to work out.
It's extremely important to bring up Gegen-pressing as Rangnick is someone seen as the godfather of football in Germany. He ditched the much used 'sweeper' system in favour of this more aggressive style, with fast wide players operating high up the pitch, a target man used to cut off passing lanes, high full-backs and a three man midfield that press like crazy.
When you consider that, you can see the Liverpool model. So it's understandable why people like myself who have watched Rangnick's teams over the years play a brand of football that to me, is the most beautiful to watch.
So, what we can expect from Rangnick at Manchester United given this team has had many years of poor management and not enough coaching in general?
I can break it down in five things that Ralf speaks about in great length any time anyone asks his philosophy.
1. "What happens if we have the ball? How do we want to play? How do we play against a low block, a high press, a counter attacking team?"
He has meticulous planning for every situation and it will not be left to the players to work out. They will have session, drills, structures and patterns put in place of where they should be and how to deal with situations faced in game. But, importantly, it also will allow for them to have creative freedom in the final third.
This will be nice to hear for United fans who were told just this week by their longest standing player and goalkeeper, "We do not know what we are supposed to do with the ball."
2. "What do we want to do if the other team has the ball? How do we want to defend that? What kind of game plan, match plan, information do I give my players to deal with this? It's simple for me, our football is heavy metal, rock and roll, we want the ball back as fast as possible."
3. "What happens in the moment we lose the ball?"
4. "What happens in the moment we win the ball back?"
Rangnick had a clock scoreboard added to the RB Leipzig training complex that had a countdown timer of eight seconds.
'The eight second rule' is adopted by a lot of top coaches to this day, if you lose the ball anywhere on the pitch, you have 8 seconds of intense press before you revert back to shape.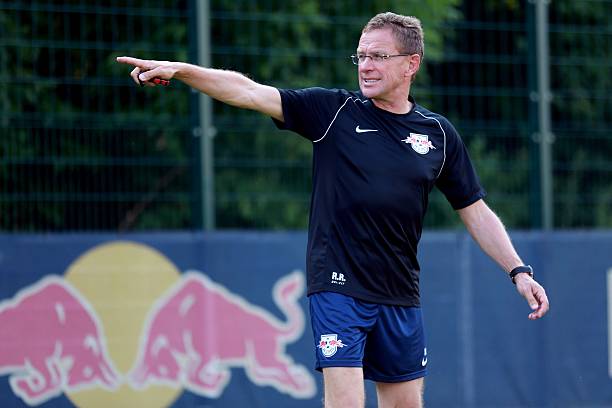 The press triggers are abandoned at this point and it involves the entire team cutting passing lanes and getting the ball back as fast and as aggressively as possible, allowing for what they call in Germany 'chance auf Volumen' a chance of volume or, 'high volume chance' a break away and movement that allows for the highest chance of success of a goal.
It is implemented as in those eight seconds, the opponents are disorganised and the player taking it under control doesn't have the time to control it properly and assess their options when overwhelmed with often three or four vs one, and will either kick it long, or relinquish possession, allowing for quick vertical passes (Rangnick likes this to be under three passes) for a shot at goal.
This exact philosophy and play-style was used during his time with Leipzig in 18/19 and 60% of their goals were scored after they won the ball back in under ten seconds.
5. "The final component is set pieces, 30% of all goals are scored either on or straight after a set piece so, as coaches, you need to be alert to that and as 30% of all goals are scored in this manner, I commit 30% of my training to set pieces."
Ralf Rangnick is a special kind of coach. He is in the business as he wants to improve players. He also has been in the mind frame for Man United for almost ten years, ever since his Schalke side played Manchester United and despite a heavy defeat, his play-style was admired by many there.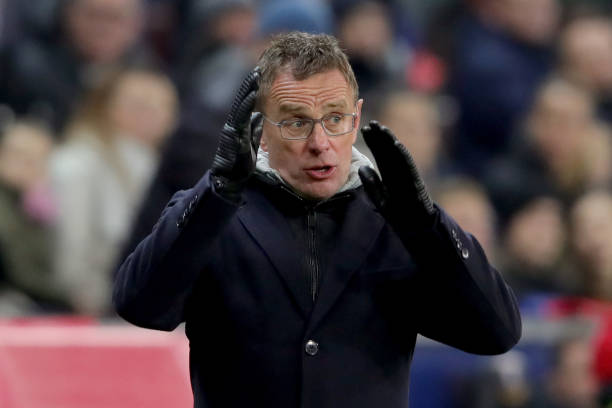 Over the years he has been used for some consultancy work on a wide variety of topics that Man United needed help on, future manager profiles, player profiles, youth team approaches and training approaches.
He has, while minor in the grand scheme of things, been a part of United for many years behind the scenes and he has never hidden his desire to manage United one day.
How will it work at Manchester United with the players we have?
Manchester United, willingly or unwillingly, have actually built a team very close to what Rangnick would like in his own set ups. His age profile is usually 18-24 however, a lot of Manchester United players are in that age bracket or just outside of it and they have pace, one of the key components that you cannot teach.
They may lack the stamina at the start but, this is something that can be taught and coached. Even with Ronaldo, the play-style that Rangnick would implement can be absolutely successful and I will try to explain the core principles of his pressing that a lot of United players will have drilled into them.
I can see Marcus Rashford, Jadon Sancho, Donny Van De Beek, Fred and Bruno Fernandes used a lot under him.
When the opponent has the ball I would expect United to adopt a 4-3-3 style formation, with the front 3 pressing up against the opponents box and one of the midfielders standing close to an outlet in the midfield.
The main reason for this is to get the goalkeeper to play the ball out to a centre back, close off the angles and offer up an option around the midfield that can be the trigger to press.
So, the keeper has the ball, Ronaldo is blocking off the opposing team's defensive midfielder, Sancho and Rashford have the full-backs covered. They want the keeper to pass it to number 2 or 4 in the image above. So, imagine the ball is passed to number 2 in the image above, what would that change about the shape.
Ronaldo would push in between the goalkeeper and centre backs, Bruno would take up Ronaldo's position, Rashford and Sancho would become more aggressive in their press leaving what seems a free, easy pass out.
But, if you look, this is the trigger, now the team is in a lot of danger. Their full-backs are split, their centre backs are split and they are about to get in to a four man press on one player.
At this point, it's fast, aggressive pressing from Rashford, Fernandes, Van De Beek and Fred, leaving them with this situation.
From here, it's unlikely the player will be able to do anything but lose the ball. All that's left then is in under two passes Rashford, Fernandes, Fred or Van De Beek get the ball and get it to Ronaldo as fast as possible, giving him a very high volume chance.
From here, Ronaldo would not be required to be sprinting around. He would have Sancho, Rashford, Van De Beek, Fred and Fernandes for that. Ronaldo's sole job is once the keeper has released the ball to either CB he goes and cuts off the passing lane to him.
He is already very good at this, and while you can say a lot about Ronaldo doesn't press but, his on pitch positioning when cutting off passing lanes is actually one of the best around at the moment.
You can see these types of patterns in the below video if you watch it all the way through.
The fact Rangnick's strikers aren't required to be the main presser is actually a plus side with United having Ronaldo here. It also would not surprise me if he utilised Edinson Cavani as a wide player on some occasions due to his relentlessly high energy and willing pressing.
Should Man United fans be excited?
Absolutely. Anyone that has followed me on social media for the last month or two will know I have been banging the drum for Rangnick for a reason.
He is tactically flexible, playing a 3-4-2-1, 4-3-3, 4-2-3-1 or 4-2-2-2 system and he will play them at a high proficiency, as he will get time over these seven months on the training pitch to drill this into the players.
But the main reason I advocated for Rangnick is he can shape a club from top to bottom and he loves that responsibility.
If I had to guess going from this appointment, the most likely successor will be Ten Hag in the summer as opposed to Pochettino. Both Ten Hag's and Rangnick's philosophies are intertwined. They are a match made in heaven.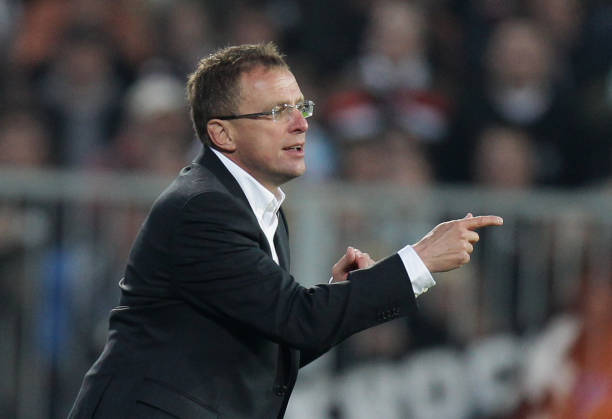 Over the years, Manchester United have been jumping from one manager to the next with no plan, Rangnick can implement a modern style and a plan for the club over the next five years. United will be fun, exciting, energetic and very difficult for teams to deal with once he does get his messages across.
I don't think it will happen instantly, however I think there will be a day and night difference between the team we see now who have absolutely zero idea what to be doing on the ball compared to in a few months time where it will be autonomous.
We have all seen that terrific clip of Rangnick explaining that if Pep, Tuchel, Klopp, himself and Hasenhuttl all went to their players at 11pm to say "come downstairs in one hour and we will do 2x 15 minutes 11v11" they would do it automatically. They would make the same movements almost in their sleep as it is in their hearts, their minds, their blood that this is how they play and they will not deter from it.
All I can say is, finally. Manchester United have one of the best Technical Directors around and a man in whom many of the top coaches looked up to and still do, to this day.