The UFC returns from a two week break to close out the year with some heavy main events, starting off with bantamweights Rob Font and Jose Aldo going head-to-head.
The two top five ranked 135-pounders will meet at UFC Vegas 44 this weekend in a bout that will decide whether it's time to usher in a new generation of title contenders, or whether one of the best ever is still good enough to compete at the highest level.
For Font though, it stands as much more than just beating one of the best champions in the history of the UFC.
---
---
After making his debut with the company way back in 2014, Font's boxing skills were always on show for all to see.
His first fight with the organisation ended in a brutal first-round knockout win and performance of the night bonus, but he then missed over a year of action following injuries that forced two separate bouts to be scrapped.
He finally returned in January 2016 and KO'd another opponent, before a decision loss to John Lineker. That would be the first of just three losses to date in the UFC, with the others coming against Pedro Munhoz and Raphael Assuncao.
Despite 12 fights in the organisation, Font has never lost consecutive fights in his UFC career. He has a 9-3 record against elite opposition and a 19-4 record overall throughout his career.
Yet only now, after four wins in a row against Sergio Pettis, Ricky Simon, Marlon Moraes and Cody Garbandt is he being recognised as a potential threat to the throne currently occupied by Aljamain Sterling.
But at UFC Vegas 44 he will step into the cage against one of the true greats of the mixed martial arts world. This is his chance to become a household name and break through that glass ceiling that has been silently holding him back throughout his career.
At 34-years-old, it isn't quite now or never for Font. Aldo is 35-years-old but his career has seen much higher highs and much lower lows, while also going on for much longer.
Despite being ranked number four in the world, Font doesn't have that marquee name on his resumé as of now. He's beaten good guys, including former champion Garbrandt, but it was a 'No Love' who had one foot in the flyweight division as hasn't been himself since losing the title.
A win over this Aldo, who is past his best and yet still has managed to climb his way back up the title ladder by beating some solid guys and recovering from losses, would be the top layer of the cake for Font.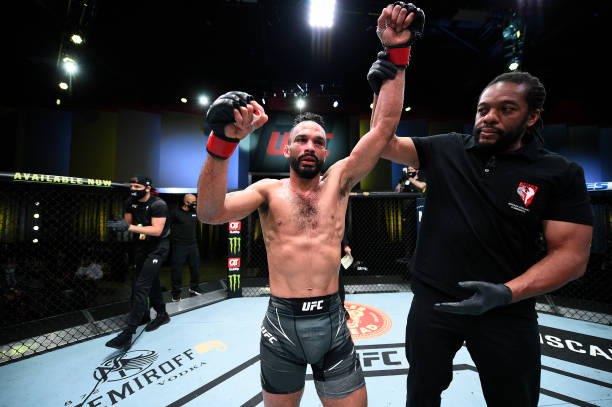 He has a great chance to cement himself as one of the very best 135-pounders in the world currently with a win. With Cory Sandhagen suffering back-to-back losses and TJ Dillashaw recovering from knee surgery, a statement victory could put Font right in line.
Sterling will fight Petr Yan early in 2022 to unify the division, but after that the next contender is up for grabs. If Font can secure a stellar performance and victory, it will be very hard for the UFC to deny him his chance to claim gold for the first time.