The most asked question after every single England Lionesses game for the past few months has been about how close Ellen White is to the all-time top goalscorer record and if and when she would do it.
It was a record that was previously held by Arsenal and England legend Kelly Smith, and she herself has spoken glowingly in the past about White's capabilities to not only match this record, but to surpass it and set new goalscoring achievements.
This was a challenge readily accepted by White, who has scored the most important of goals in the world's biggest competitions, but also dispatches with ease against opponents no matter the gravity of the match – she simply loves scoring goals.
---
---
Prior to Tuesday's game against Latvia, White stood just one goal behind Smith's record on 45 goals in 100 caps. Given the nature of the opposition, many expected this game to be the game where she finally achieved it. White didn't disappoint.
What many wouldn't have expected however, was that it would take only six minutes for her to tie the record, and nine minutes to become the outright England Women's all-time record goal scorer.
The celebration from her was one filled with pure emotion and elation to finally be able to stand alone at the top, and was a celebration that showed the pride that her teammates felt on her behalf.
The reaction to her record setting not only crowned everything that she has done throughout her England career of providing goals, but was further evidence of how much she is loved and respected by her teammates and fans.
She had previously tried to downplay her expectations for this record, having been asked about it constantly with her response often being "it's not something that I think about".
Her emotional celebration spoke volumes about what it really meant to her – especially considering that Kelly Smith is one of her idols. Her first thought is always about the team winning, and she knows that her goals can help them do that, but to her the individual accolades are a secondary thought.
Still, the immense pride that she must have felt in this moment had to be celebrated by then going on to get a hat-trick in true Ellen White fashion.
What makes her so dangerous as a goal scorer is the fact that she doesn't necessarily need a clear-cut chance to score, with most of her tournament goals coming from her sniffing out danger and playing on the shoulder of the last defender.
With a great mixture of both left and right-footed finishes as well as headed goals, there was no doubt amongst us as spectators that she would break the record. She currently has the record on 48 goals, and this is something that we would expect her to extend given her hunger and quality.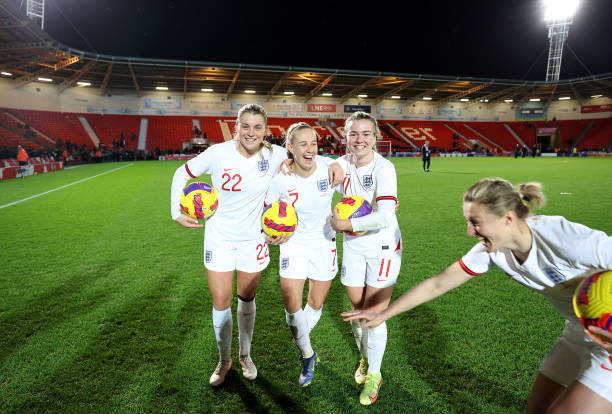 Consistent supply lines from both the wing and midfield are also at a high level, so where this record could be at the end of it all is extremely exciting for us and for the history of the sport.
White speaking so glowingly about the girls who scored their first England goals this Tuesday in the historic 20-0 win was once again a show of her humility and selflessness for the team. Budding striker Alessia Russo and electric winger Lauren Hemp were amongst those that scored their first goals for the Lionesses – and they later went on to score hat-tricks too.
White is really paving a way for those that are coming up behind her, and they're having the pleasure of learning from someone who completely commits herself to the sport and what her role is within the sport which is invaluable.
But she is leaving behind a legacy that only truly world class footballers will be able to match in the future and that shouldn't be ignored. White is one of, if not the, best strikers that England's Lionesses have ever had and deserves all the praise she can get.