It's been a little over five years since Stephen Thompson first challenged for a UFC welterweight championship against Tyron Woodley.
In a tactical bout, the first ended in a draw before their rematch five months later saw Woodley claim the victory via a majority decision. Since then it's been a winding road for 'Wonderboy'.
He has won just three of his last six fights and is coming off another loss to Gilbert Burns at UFC 264 most recently.
---
---
It ended a two-fight win streak fort he karate fighter, who previously dispatched of both Vicente Luque and Geoff Neal at UFC Vegas 17 with relative ease.
But now he goes head-to-head with Belal Muhammad, who is five places below him in the UFC rankings in number ten in order to get back to winning ways and find the top of the mountain once more.
His loss to Darren Till was more than questionable, with many believing he won convincingly but the home crowd swayed the judges in England and he was defeated.
He was dominating the fight against Anthony Pettis before an explosive, flash knockout meant he was finished for the first time in his professional career. But the following victories proved he is still among the very best strikers in the organisation.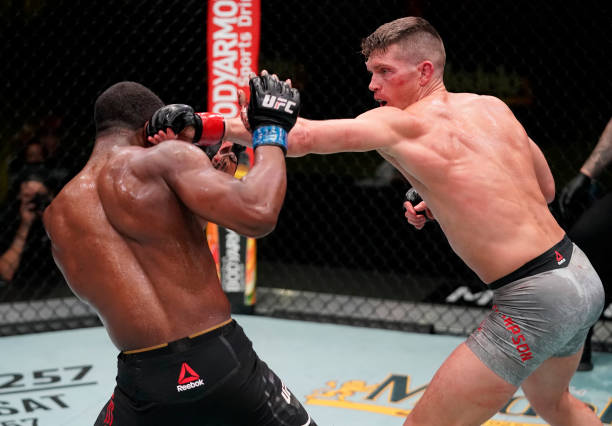 His angles and footwork are truly brilliant, and while he doesn't really possess fight changing knockout power he does have the skills to make anyone look silly.
When he takes on Muhammad he will be facing someone with an excellent gas tank and decent wrestling and kickboxing skills. An all-rounder, Muhammad is trying to prove himself as someone who can compete with those right at the top of the division.
If he can win, he'll enter the top five and likely end any and all hopes 'Wonderboy' has of becoming champion. But if Thompson can recapture his form and get back to winning ways, he's right back in the hunt.
He'll keep his top five ranking and likely set up a rematch with Luque or potentially face off against Colby Covington in 2022. He would still be behind Leon Edwards and Burns in contention for the title shot, but he moves one step closer and gives himself the opportunity of reaching the pinnacle.
Thompson will be 39 by the time his next fight after Muhammad rolls around. Time is running out for him to get there, so this fight is a legitimate must-win bout.