On Wednesday night we were treated to one of many in the list of exciting fixtures coming up for all fans of Women's Football.
The semi-final of the Women's Continental Cup and the first match up between Chelsea and Manchester United was one that had a lot riding on it for both sides.
Coming into the game United were on a run of seven straight wins and clean sheets in all competitions. Chelsea, having never lost to Manchester United, were attempting to get one step closer to lifting their third consecutive Continental Cup. We knew one of these sides wouldn't be able to make it to the final and it was Manchester United that once again fell at the hurdle.
---
---
When the draw initially came out, United fans worldwide must have been questioning why they've had such a torrid time with cup draws.
They met Manchester City in the group stages and after beating them and making it through the group, United were treated to an away tie against Arsenal – a side they had only beaten once in all competitions since the formation of the team in 2018.
Despite this tough quarter-final encounter, the rejuvenated United side took their well-earned confidence and put in a performance that the players and manager Marc Skinner would have been proud of.
They were not only able to play their game against Arsenal, but also able to stifle the chances of the league leaders – limiting Vivienne Miedema's chances in the box and physically keeping up with the threat of Beth Mead.
This performance was capped off with an Alessia Russo header in the 84th minute and defensive solidarity from the whole team saw them make the semi-final.
For Chelsea, making the semi-final was more of a routine procedure with the Blues having won the trophy in both 2020 and 2021. Their 4-2 win against West Ham saw them make the semi-final again, the only shock to Emma Hayes being who their opponent was.
She made light of the running joke that it's always a City vs Chelsea semi-final – with the side meeting in eight semi finals over the past seven years alone.
However, it was the other side of Manchester that ended up getting drawn against Chelsea – the one side that United haven't yet beaten.
The first 20 minutes of the match saw both sides trying to impose themselves. It was clear that United early on were trying not to fall into the traps that they fell into in the league game with playing out from the back.
However, it was once again Pernille Harder who found the goal against United to open the scoring. There had been a few times that she had found joy down the left-hand side, with United willing to concede possession in the middle third.
Harder, after the ball fell into her path, went on mazy run which completely bamboozled the in-form centre-back for Manchester United Aoife Mannion.
She showed total composure to not only take the defender out of the game, but to slot the ball past the United keeper also.
It went from bad to worse for Manchester United after a scramble in the box led to Jessie Fleming making it 2-0 just five minutes later. There were some concerns that United would capitulate from this point onwards – similar to the 6-1 onslaught earlier on in the season.
Though despite being two goals down, one thing that this Manchester United has is heart. That heart and hunger to change a result is something that sets them in good stead for the rest of the season and beyond. They continued to work together and work for one another to carve out an opportunity.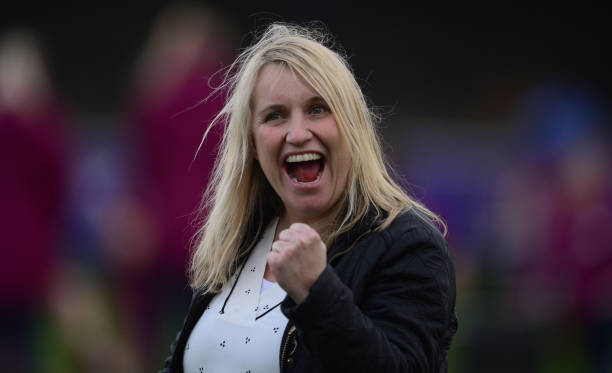 They were rewarded almost immediately for their tenacity, with some great combination play between two United midfielders – Vilde Boa Risa, whose powerful shot overpowered the keeper after a great back-heel set up by Jackie Groenen.
This was the time for United to regroup and ensure that they went into half-time with just a one goal deficit. However, Chelsea soon hit back with a well-timed run from defender Jess Carter. The goal came at the best possible time for Chelsea, who are extremely familiar with holding onto leads and seeing the game out.
United once again tried to impose themselves at the start of the second half but were unable to carve out a clear-cut opportunity. They continued to physically match Chelsea but ultimately the damage was done in the first half, and Chelsea's quality shone through – specifically Harder.
They have to be commended for how often they make finals, and the ease and comfortability they often do it with. The match once again will act as a learning curve for Manchester United who continue to strive towards being a side who can make finals and be present in the Champions League.
Chelsea will be looking to make this a third consecutive Continental Cup Trophy – and to add more silverware to the ever-growing legacy of Emma Hayes. After countless semi finals together, Chelsea will play Manchester City in the final who saw off Spurs on Thursday. This is the first final between the two of them in eight years and one that they'll both be keen to win.