With Women's Football Weekend fast approaching, it wouldn't be fair to not dissect the players that you should you keep your eyes absolutely peeled to.
Due to injury we don't have the full radar of the leagues talent on show, but there's still so many showstoppers that you should be on the lookout for.
In order to not overwhelm you, I'll keep the list brief – but you definitely don't want to miss these players during this upcoming game week.
---
---
Lauren Hemp (Manchester City)
Position: Winger
It wouldn't be right to do a 'ones to watch' list without the talent that is Lauren Hemp.
Outside of her Manchester City and England teammate Chloe Kelly (who is still recovering from her ACL injury), she's probably the most electric player in the league. What makes her stand out amongst other people is the fact that she can beat every single full-back in the world with her direct and positive running. 
Her first thought always seems to be beating the defender and driving into the dangerous areas in the final third. Another thing that makes her so electric also revolves around the fact that she is comfortable going down the byline and whipping in a cross, but also cutting in on the inside and delivering a shot or killer pass.
Either way, her unpredictable nature, speed and decision making makes her an easy decision for ones to watch – both this weekend and beyond.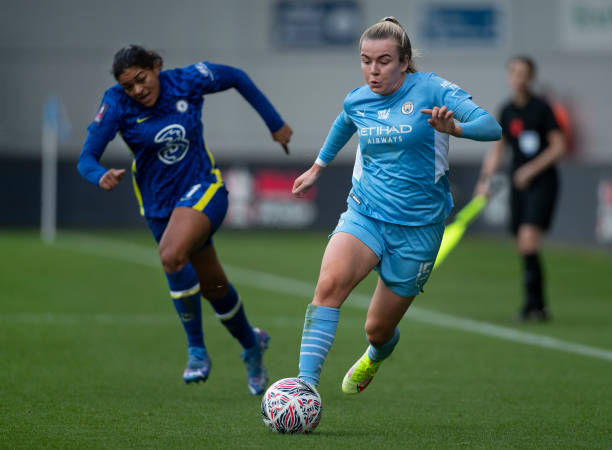 ---
Kim Little (Arsenal)
Position: Midfielder 
Kim Little – where do I start? Probably the most dependable player in the league.
Between her intelligent movement, understanding of her teammates movement, and her ability to make a moment (even when dealing with scraps) is unmatched.
What makes her so dependable is the fact that this 'moment' with Little, may not even necessarily be a goal. She seems to just understand exactly what her team needs at that given moment and she delivers it. 
This could be her ball retention when her team is under severe pressure, but also the fact that she can single-handedly dance her way through a midfield and put it on a plate for her attackers.
Based on how Arsenal have been looking this season, it's been the latter as she's been popping up with goals and assists weekly. But her intelligence is a joy to watch and someone that I recommend playing close attention to as she's at the heart of everything good Arsenal do.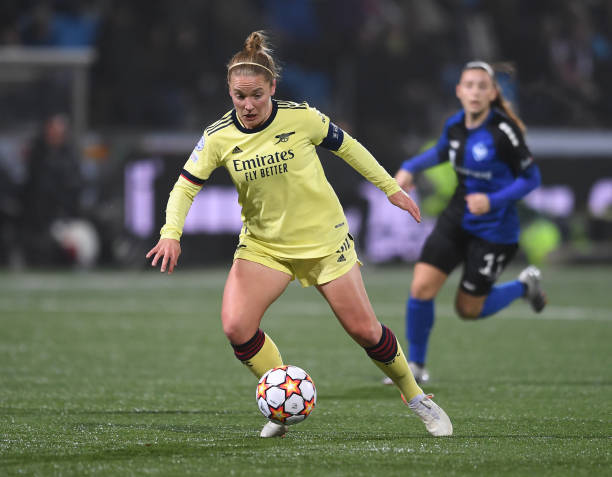 ---
Sarah Mayling (Aston Villa)
Position: Full-back 
Sarah Mayling is known for the whip she gets on all her crosses, set-pieces or not. She has to be included in this ones to watch list because given the fact that it's a local derby against what was her former club Birmingham City, I expect her to have to say in what the eventual result is. 
We've all heard of a set-piece specialist, but Mayling appears to have mastered how to manipulate the ball especially when crossing or taking free-kicks.
More notably, her set pieces have sparked numerous comebacks for her club and I wouldn't be surprised to see her changing the game with her deliveries this weekend.
Villa have started well and so I expect them to be on the front foot in this game – giving Mayling the license to go forward and shine.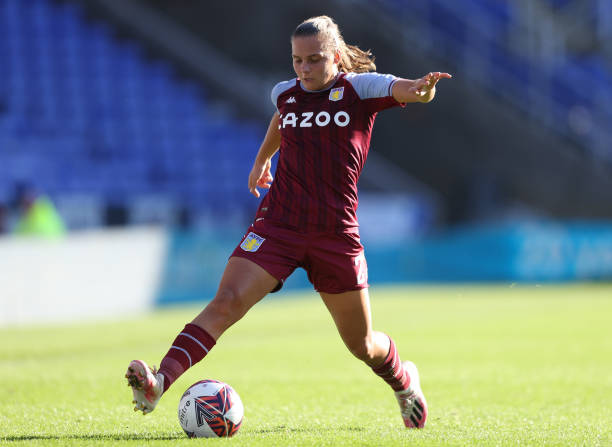 ---
Jessie Fleming (Chelsea)
Position: Midfielder 
Since Fleming's arrival last season, she has struggled for minutes in this absolutely stacked Chelsea side.
This has had less to do with her ability, but more so the fact that this Chelsea team is filled with top class talent all over the pitch. Following her success with Canada at the Olympics, she seems to have started this season full of confidence off the back of winning Olympic gold.
Her cameo performances earlier on in the season have seen her rewarded with consecutive starts – and she's been sure to take her chance. 
The thing that makes her a standout for this weekend is the fact that she's unpredictable. She fully understands the role that's required of her in that Chelsea midfield –  between supplying the wingers but also making sure that she's aiding the attack by making third-player runs into the box and arriving late.
Her ability to do this has made her so dangerous because she's an excellent finisher as well as the fact that her decision making is beyond her years. I can see her making more strides this weekend as Chelsea look to make strides towards the title.
---
Hannah Blundell (Manchester United)
Position: Full-back 
There are numerous Manchester United players I could have put as the ones to watch out for.
Having already spoken to glowingly about Ella Toone and Alessia Russo's partnership, I thought I'd choose somebody who has brought so much to the team both in an attacking and defending sense.
After spending eight years of her senior career at Chelsea, Hannah Blundell made the switch up north – in search of more playing time.
Her ability to stay calm defensively as well as in offensive areas has seen her slot into the United line-up seamlessly. She's already registered three assists this season, and I can see her adding to that tally this weekend.
Despite the difference in location, United vs Everton games have been played as though it were a derby since Casey Stoney's tenure – with United coming out victorious most of the time.
That being said I expect Blundell to have a lot to do this weekend and she will need to be switched on, but there will be space for her to exploit and offer support to the forwards.
United have a legacy to protect when it comes to our fixtures against Everton and I'm sure Blundell will thrive on that pressure.