The biggest trilogy fight in UFC history had arguably the most unfortunate end we've ever seen in a big fight, but we still saw more than enough to know how the fight was probably going to go.
The UFC 264 main event fight between Dustin Poirier and Conor McGregor went only one full round, before the doctor stopped the fight between rounds after 'Notorious' suffered a broken leg with ten seconds remaining.
But what we saw in the previous 4:50 of the round was more than enough to convince me, and many others, that the former two-weight simultaneous world champion is done at the highest level.
McGregor started hard and fast, opening the round with spinning back kicks to the body and then started firing kicks to the legs of Poirier. 'Diamond' stayed calm though and saw out the first wave of attacks, although Conor did land a big left hand.
Poirier responded with a chain of punches himself which forced McGregor to clinch, which led to a takedown from Poirier and essentially the rest of the fight. Poirier took him down, avoided the guillotine attempt and then landed two minutes worth of ground and pound with vicious elbows and punches.
He let McGregor up before a freak accident saw him plant his foot badly and snap his tibia bone to end the fight.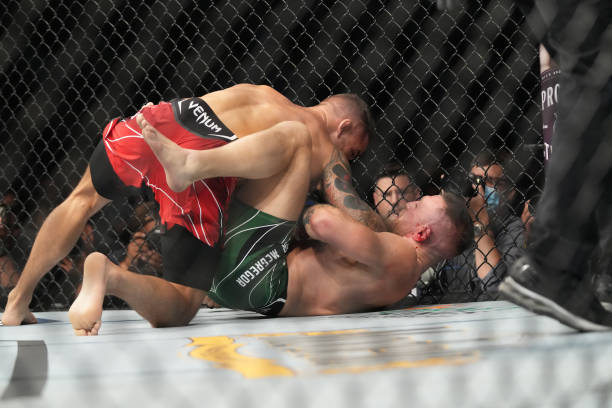 While the former lightweight and featherweight champion exclaimed after the fight that "this isn't over", and Dana White confirmed that the UFC would likely make yet another rematch between the two fighters once the Irishman has fully healed I'm not convinced it's something we need to see again.
As far as I'm concerned the first fight between them is now irrelevant. It was seven years ago, in a different weight class and it was two completely different men.
The January fight however was relevant. McGregor won the opening round in my eyes, but when he landed that left hand flush that normally puts people away – Poirier didn't disappear. Poirier fired back with strikes of his own, grappled and landed the eventually lethal leg kicks.
In this fight, it was more of the same. Anyone who has followed McGregor's career knows that he isn't really someone who grows into fights. He starts at a super high, sharp standard and steadily declines as it goes on. Poirier is arguably the opposite and that showed.
Poirier took his best shots, fired back and troubled McGregor and then beat him up until the round ended. Had the leg break not happened, it's hard to think that the fight wouldn't have continued to unfold in the same manner and while he may not have got the finish I can't see how McGregor overcomes that and turns the tables to beat Poirier over the course of a fight.
His period to take over the lightweight division was immediately after he won the title, but instead he chased money. There is absolutely nothing wrong with that either, he chose the security of his family over fighting because his legacy was already secured, but he missed his chance.
The hunger isn't there, the levels have been upped and he has been left behind. As a fan, I'd love to see McGregor just walk away and maybe pursue boxing or just continue with his business ventures. If he was to return to the UFC, it should absolutely not be against Poirier or any of the top contenders because he isn't at that level anymore and there is no need.
If he must return, give him the Diaz trilogy. A fight that is purely ego and pride, that fans will enjoy and get behind but doesn't actually mean anything for the division it takes place in.