At this point the conversation surrounding the women's GOAT in mixed martial arts is a bit redundant.
Amanda Nunes is currently on a 12-fight win streak in the UFC having beaten every single former bantamweight or featherweight champion in the organisation's history throughout her career.
Add to that two victories over Valentina Shevchenko too (regardless of how controversial you think they are), there isn't really much of a debate to be had.
---
---
After a remarkable five bantamweight title defences since winning the belt from Miesha Tate at UFC 200, Nunes has cleared the division out.
Wins come easily now, and her domination of the featherweight division haven't given her much of a tougher test either. Yet somehow, she has found motivation to continue in recent years despite the relative ease at which victories have come.
This weekend at UFC 269 however, Nunes has something to prove once again when she takes on Julianna Pena in the co-main event in her sixth 135lbs title defence.
Pena has been calling her out for years, to the point that a single fight win streak and two wins since 2017 have earned her that illustrious position of number one contender.
'The Venezuelan Vixen' has long been of the opinion that she has the tools to beat Nunes and shock the world, but she has never had the opportunity. That isn't for any reason other than the last time Pena was on a win streak was the very same event Nunes won the belt.
That hasn't stopped her from constantly calling for a fight with Nunes, and it was finally set to happen earlier this year at UFC 265. 'The Lioness' however tested positive for COVID-19 a little over a week before the bout and it was postponed.
Since then, Pena has been doing a press tour claiming that Nunes isn't taking her seriously and that she faked the illness to get out of the fight. Pena is so sure that Nunes is ducking her, that she's even convinced some fans that it's the case.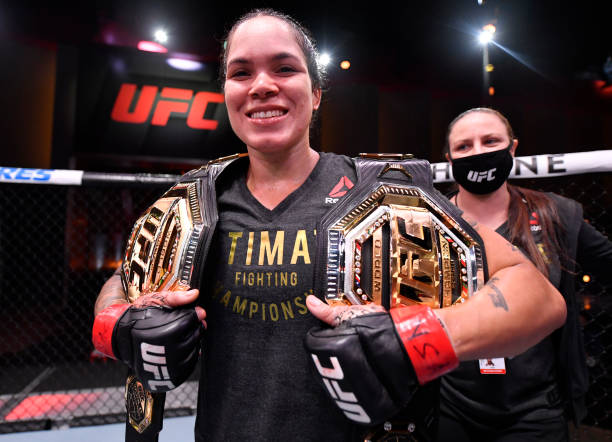 So now, this title fight has got that little bit more personal than a standard fist fight would be.
Nunes must win or it makes Pena's claims for all this time look more valid than ever. Should she win, it doesn't do much for her legacy. At this point, it's expected that she's going to win every fight ever.But what it does do is mean that she can retire with zero question marks over her head.
There'll be no debates over anyone she didn't fight that she should have, no debates over any results and more importantly, no debates over who the greatest of all time is.